On top of my growing to do list, I am working on obtaining a level 1 kettlebell instructor certification (HIKF) . It is also the only one that I am aware of that is sanctioned for CEU's from ACE (American Council on Exercise)
kbgym.com/ebook.html
. I have always had an interest in them as opposed to more main stream strength training. Kettlebells have been around since the 1700's in the Soviet Union and have been named the "Strength Secret Of The Soviet Supermen" They are also the standard of fitness for the Soviet Military and Special Forces and have been the weapon of choice for developing full range of motion strength and power as well as delivering aerobic fitness. They have also been the subject of study here in the United States and have been proven for effectiveness by the ACE.
www.acefitness.org/certi
fiednewsarticle/3172/ace-s
ponsored-research-study-ke
ttlebells-kick-butt
My exam has two parts. One is a written exam with both multiple choice and essay questions. The second is a video submission where I go through a 10 minute cycle of standard kettlebell lifts at a set rep per minute and am graded on technique and form. This is a continuous effort of 1 minute per arm per routine and am not allowed to put the bell down but rather do a mid air hand to hand pass and catch to change hands for the next set.
The lifts that I will be tested on are..
1. CLEAN: 6 to 20 RPM
2. LONG CYCLE Press: 4 to 12 RPM
3. JERK: 6 to 20 RPM
4. HALF SNATCH: 6 to 18 RPM
5. PUSH PRESS: 6 to 20 RPM
I've been taking videos and doing frame by frame analysis of my form.. here are some "training selfies" :)
Snatch-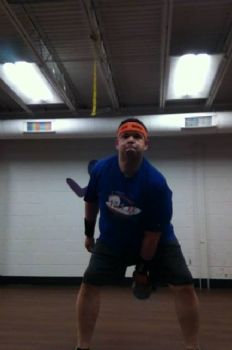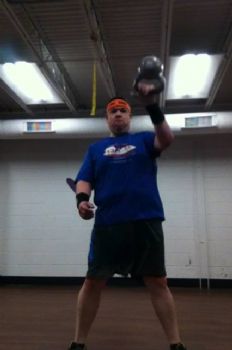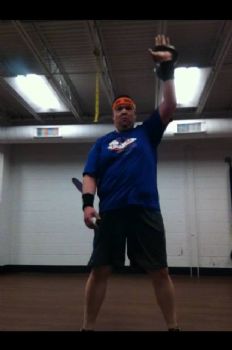 The last frame shows a boo boo where I open my hand just before lockout (overhead) that is a no-no... need to work on that.
Two handed swing with my 55 lb KB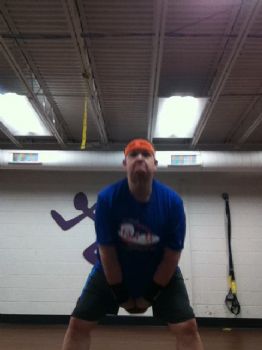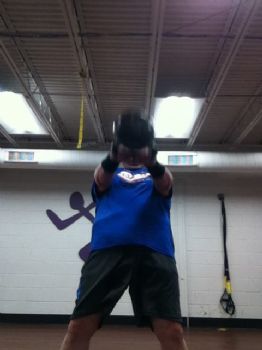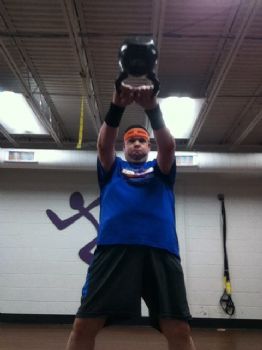 -although not tested, I love my two handed swings because it is a great core workout and I can really get down and dirty with some really heavy weights... ( I can swing up to 100lbs but I do that at home.. no way i'm bring that beast into the gym)
The BIG Kettlebells (lower body work and two handed swings)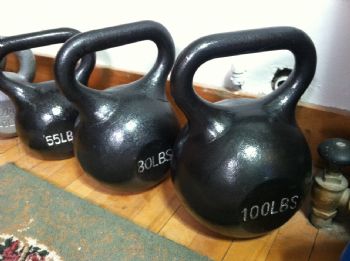 My collection-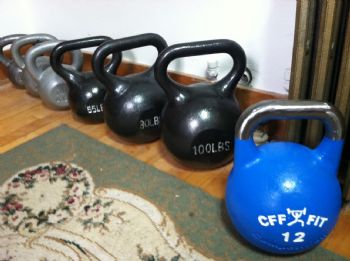 The blue one is a competition grade (official in size and design) and this is the one I am training with for my submission 12kg = appx 26 lbs.
Compared to a bell of similar weight...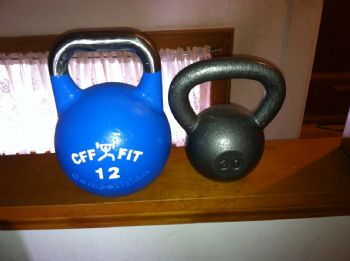 This one is the Cadillac of kettlebells in how it handles. BIG difference from the standard types that you find in most gyms.
Last of all... I can tell a difference in my strength and form. Since my 70.3 training last year, I have really taken time off and it showed but my cut legs are coming back... I normally wouldnt post something like this but I am really proud of my come back and cropped it for modesty :)