This has not been a good month for us! First hubby getting laid off, then yesterday THIS happens!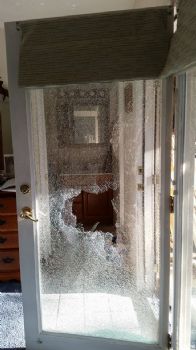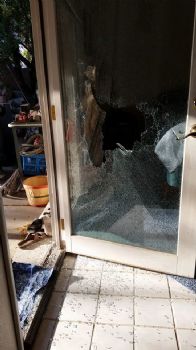 Yep..we were burgled! Hubby got home and noticed that Ms Penny (the cat) wasn't at the door to greet him. She's always there when we get home. So he started to call out to her. He went down our hallway to the our bedroom and found that someone had broken in. Not only that, but it seems whoever it was, was very determined to get in. Him/her couldn't get the door open by popping the deadbolt (and they tried..they even used the foam pad hubby uses when working in the yard as a cushion for his/her knees), so "it" (as I'll refer to whoever did this from now on here) punched out the double paned tempered glass in the door, reached in and unlocked it. Then "it" proceeded to clean out my jewelry box, go though the drawers in the dresser, and the night stand on my side of the bed.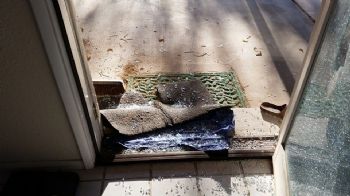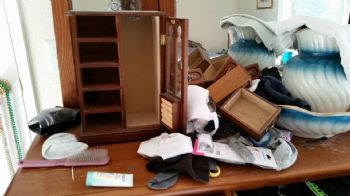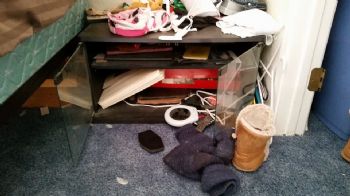 And for what did "It" do this? "It" may have taken everything in my jewelry box, but all that was in there was cheap costume stuff. All the the things that had any kind of value I had hidden away 3 yrs ago when we went to Hawaii, and just never put back. So we still have all of that! "It" did take a brand new, in the box bottle of Shalimar Perfume I had just bought last weekend. But the really strange thing is "It" also took the old bottle, that was like almost empty. Go figure!

That's all that was taken. Nothing else in the house was messed with..not our gun, laptops, Xbox, etc.
Hubby called the cops, an officer showed up and we made a report, a CSI (yes they do wear those vests!) showed up and took pictures, but they didn't get any good prints. The cop said hubby must have scared off the guy when came home and called out for Ms Penny. You can't hear the garage door open in our bedroom, it's at the back of the house. Hubby found her outside, setting on the patio, looking at the broken glass in the door. Myles we found later under the race car in the garage.
So we had everything secure by about 10:30 or so..after a trip to Lowe's for a sheet of plywood. Hubby cleared the glass out of the door (we put an old sheet under it to catch the glass), we taped thick plastic sheeting on the inside to the door and screwed plywood to the outside. We used our big shop vac to get all the glass up (well most of it..I found a couple of pieces this morning) and we we're done.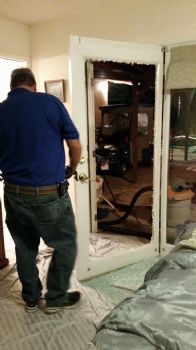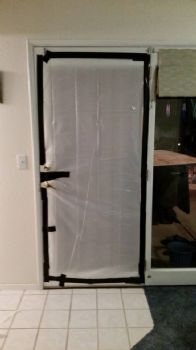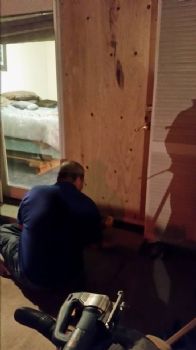 We get crime alerts (via Alert ID) for crime within a mile or so of home, so shortly after we got done..we got am alert that a burglary had taken place 0.0009 miles from home...that works out to be our bedroom!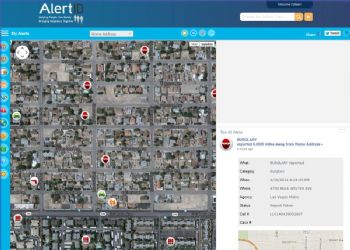 OK..on a serious note...we feel so violated. And I was scared (after I got over being pissed). I was home alone all Sunday night. Hubby had to work over night that night. Our gun is now loaded (we had unloaded it when the grandkids were here). You feel like something has been ripped away from your home after something like this.

The cops were great..and everyone around us has been really supportive (I took off from work when hubby called..I was like 20 mins from getting off anyway). But it shakes your fath in people.

So as you can guess..dinner was catch as catch can...Panda Express. I had the grilled teri chicken, chow main, and the new orange chicken with bacon. I only ate half of the chow main, half the teri chicken and all of the orange chicken with bacon. And a fortune cookie. Over all I was under calories...which is good cuz I'll bet I'm going to be over today (Chris at work brought candy..bad man!)!

I did get over 13,000 steps in yesterday and I'm at 8754 so far today. I'll have ti try hard to make my 10K. I did do the elliptical today (oh..have to log that!).
OK..so that's all for today..thanks for listening to me whine!