Last night was an extraordinary proud moment for me. I have a client that just moved to the area from out of state and really didn't know anyone here. She was very shy and was scared to join a gym. She was not used to challenging herself. I met her initially through a Facebook post on another friends page and they were coaxing her to come out to a step aerobic class so I chimed in and then made it a point to go myself.
Over time we talked and I learned that she really wants to participate in a local color run 5k but it seemed out of reach. After watching her in step class over a few weeks I could see that she was very willing to push past the awkwardness of being new to the class and willing to roll with not doing every move perfectly, I knew she was the perfect candidate, I could see alot of potential.
Also being new to the area and just landing a job, she didn't have the funds to participate in the program. Money is NOT why I coach. i approached her and offered to train her for free if she would be willing to commit. That was a no brainer, she jumped on board and we started training about a week ago.
We did some basic testing to determine what her pace and run walk interval should be for her level, customized a training plan, and got to work.
The only way I can describe this is like you are watching a time lapse video of a flower blooming. All it took was nurturing with encouragement, watering with faith, light of guidance, and allowing her to train at her level while gently moving her to bigger goals.
We are bonding and it is one of the most rewarding experiences ever.
Last night I could really see her inner athlete wanting to come out. i could see the focus, the "look" as she dug in and figured out that her limits were not where her mind said they were.
We were both on afternoon shift so we agreed to meet a the gym at 11:30 pm last night for a session. It would have been easy for her to cancel after a rough night at work then to have to drive in a heavy fog to get to the gym... but she was determined. She took on new exercises on the TRX bands, and cable machine. We then did sprints up and down stairs. She was amazing.
The grand finale was when we did our running workout. We did run walk intervals for almost a mile while slowly increasing the speed with each round. Run one minute, walk 3 min for recovery. My goal was to get her up to 5 mph for 30 sec at the end but she surprised me when she wanted to keep pushing, she said it felt really good.
The final number.... she held 5.4 mph for 2 minutes straight! With her consent I took pictures and told her that this is a proud moment she will always remember... the night she did what she thought she couldn't, the night she broke her barriers.
What an athlete!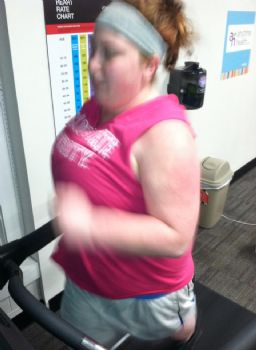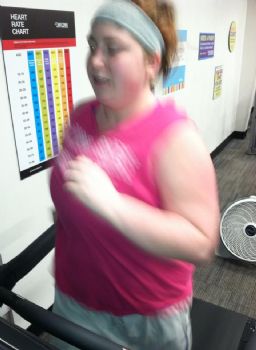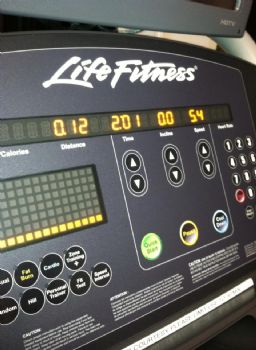 She is a champion in my book...
Nourish the heart, strengthen the confidence, and the body will follow.
I told her that it seems out of reach now but as you get more victories under your belt, a half marathon will not seem so crazy.
She took it in.. I could see the click. The inner athlete was listening.
I love coaching :)