Today I turned 21 years old YAHOOOO now I can participate in 'grown-up' things such as drinking, gambling, etc.
JUST JOKING!!!!!
I'm a kid at heart :)

I remember last year at this time I said I would lose 50 pounds... nope
I said around January I would lose 21 by the time I turn 21... nope
But I'm not disappointed, why?
Because I didn't even try.
I have a gym membership, and I only went once- once!
I went on January 1st, 2014, and I have not been there since.
I don't know; something has come over me where I just don't even think about weight loss anymore. I used to love weight loss success stories and going on SparkPeople and everything, and I guess it's still in the back of my mind but it's definitely not at the forefront of my brain! I think there's something wrong with me lol!
March 11, 2014 marked the 2 year anniversary when I officially began my weight loss journey and was totally into it.
Also, I've been busy with school, my part-time job, and also my sister had her baby on March 14, 2014!!!!
This is my niece, Isabella and I! She's about 6 weeks old in this picture. She's just the cutest, sweetest thing on planet Earth I tell ya!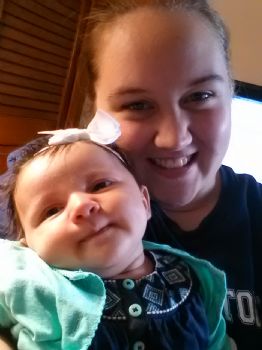 I know, I can't wait for the 'right time' to start, and I do want to lose weight, just not bad enough, which I can't stand because I wish I was super motivated all the time and wish I just wanted to lose weight badly enough to do something about it!!!
I just need to stop talking right now, so I'll let you go as I finish up a 5-page paper that's due tomorrow.
I hope everyone is doing great on their journeys to becoming healthier and better!
God bless and good night!!!