I'm so humbled by the outpouring of support and good advice from my previous blog. Thank you all for the nice words and suggestions. Yes, I am being cautious and most importantly, listening to my body and the doctor's advise. It's tough holding back when you are in a competition and everyone around you is 'going for it' at their own level.
I had a wonderful race today! The weather cooperated, not too warm at first, although it warmed up somewhat later towards the end, where I was running out in full sun. I did fine.
I had plenty of energy throughout, and had some nice chats with other runners, who recognized me from prior "Masters of All Terrain" events.
I started out very slowly, minding to use caution. I was somewhat embarrassed that I was the only one walking at the very beginning. I walked after just a couple of minutes, and then walked even more frequently once the pack thinned out. I got passed a lot, but no sweat, I figured I'd be passing right by many of them later in the race. I've done a few races and can spot the Eager Beavers who shoot out too quickly and then flag at the end.
I was averaging 11 minute miles for several miles and felt really strong. Absolutely no discomfort, and enjoyed the beautiful scenery this area had. We went through shade, open fields, narrow paths where only one runner could stride at a time. Just a gorgeous trail. There was some water, but not like last year. There was a fairly long stretch of white gravel, that was loose and no picnic to run on. I enjoyed these difficult patches though. I felt like I was defeating a challenging course, and those who read my blog know I love a challenge. And this was not easy.
At one point, a very strong looking ruck sack carrying young guy tripped on wet rocks. He went down hard and I knew it hurt. He bravely got up and continued on, ignoring the pain I knew he was in. I ran alongside and chatted with him. He seemed okay, but man, he fell hard. Much respect for those guys who compete in the ruck division, carrying a flag and/or knapsack containing a considerable amount of weight. I couldn't do it. And, I told him so. You meet some nice people at these events.
I ran on, and I did push myself a little bit at the end. I felt good, was well hydrated, ate more than usual, and felt I could push on a little. So, I did. I had no trouble, and was passing more than were passing me, and that felt good.
I refrained from going all out for the last couple of miles. I just kept plodding along at a fairly comfortable pace, but I knew I was doing very well for this type of event.
As I came down the finish line corrider, DW was there and took a few pictures of me. That was cool, because at some of the bigger races she doesn't even see me. This race had about 500 runners, some were 5 milers and the rest of us half marathoners. Not a huge race.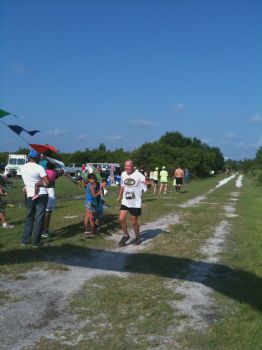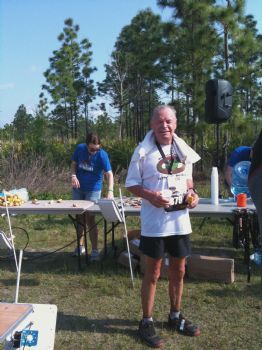 I finished. Upright and not beaten up too badly. The announcer mentioned my name and told the crowd I was 'his favorite' and that I was again a trophy winner. I was the oldest competitor there once again, and he remembers me. He was about to start handing out trophies and apologized that he was mistaken, that I had taken 4th place in my division, not 3rd as he originally believed.
The division I placed 4th in was age group 56 to 100! Not the usual 65 to 70 that we're all used to. But, that's fine, because I have a lot of trophies already, and there was a guy running right in front of me who looked to be over 56. So, good for him, he got the third place trophy! Pretty sure I could have turned it on, and passed him down the finish corridor, but no way did I want to be 'that guy' - like I said, I have plenty of trophies. Good for him!
I got what I wanted out of this race. A comfortable finish, a respectable time and the confidence to continue my athletic endeavors.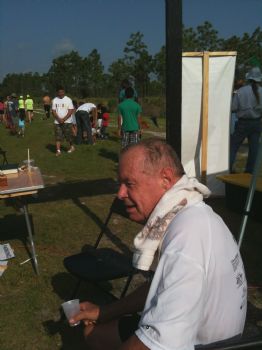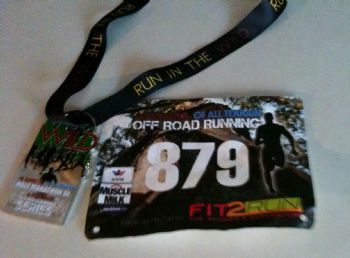 My final time has not been posted yet, but my GPS watch tells me I ran 2:23, which is better than I expected for this type of course.
Thanks for reading and have a great day!