"Above all, trust in the slow work of God.
We are quite naturally impatient in everything
to reach the end without delay.
We should like to skip the intermediate stages.
We are impatient of being on the way to something
unknown, something new.
And yet it is the law of all progress
that it is made by passing through
some stages of instability—
and that it may take a very long time.
And so I think it is with you;
your ideas mature gradually—let them grow,
let them shape themselves, without undue haste.
Don't try to force them on,
as though you could be today what time
(that is to say, grace and circumstances
acting on your own good will)
will make of you tomorrow.
Only God could say what this new spirit
gradually forming within you will be.
Give Our Lord the benefit of believing
that his hand is leading you,
and accept the anxiety of feeling yourself
in suspense and incomplete."
Pierre Teilhard de Chardin
Chardin died in 1955. A French philosopher who was a Jesuit priest; his words seem out of touch and dusty with today's Blue Ray players, high speed internet and smart phones. The rock band Queen sang many years ago "I want it all and I want it now!!" Admit it or not, that anthem has pretty much become our mantra, proudly displayed wherever we go.
Success today, right here and right now!!!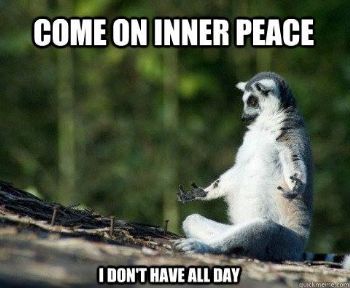 Yet, if we take a moment and allow Chardin's words to slowly seep into our consciousness we begin to realize that he was right.
"Above all, trust in the slow work of God."
We live in a "pour water on it and watch it grow" sorta world today. We want, nay we DEMAND answers in real time and when we don't get those answers we move on to something or someone who promises us, valid or not, the things we want in the right-here-and-now.
Next year we celebrate 50 years since his death. While I'd studied him in college, I'd forgotten about him until my good friend and most exceptional writer and philosopher TRIANGLE-WOMAN sent me a Goodie and suggested I "look him up." What it caused me to do was root through some old boxes this weekend to find some of his books I'd long since forgotten. They are treasures
If you get a chance stop by her page and peruse through her blogs. Like Chardin, TRIANGLE-WOMAN is a well kept secret that God meant for us to enjoy.
Slow down and enjoy today