Today was the 2014 Flower City Challenge Half Marathon and Wegman's Family 5K. Unlike the last two years, I did not have to trade down to the 5K. The weather was similar to the last two years. It was 41° F on my porch when I headed out, so I wore shorts but a light two layers on top, the training group tech shirt over a light long sleeved compression shirt. This was comfortable while running, but a bit chilly for standing around with a northerly wind of 8-9 mph.
I had a plan. The plan was to get up at the normal time for a 7 AM long run Saturday, go through a normal morning routine for that kind of day, get in my car and drive to the race site, and be on time for the training group photo op. That much of the plan worked flawlessly.
The race plan as stated in yesterday's blog, was to head out with the 1:35 pace group. Hang with them through the first set of hills from Goodman to Mt. Hope Cemetery. Edge ahead of them when we get to the top of the hills in the cemetery (about mile 8). Pick up the pace when leaving the cemetery (about mile 10). Turn on whatever afterburners I might have left at the top of the Ford Street Bridge (less than a mile to go).
The race plan failed before the starting gun. It turned out there was no 1:35 pace group. The 1:30 pacer had a helpful sign telling me that this was 6:50 per mile. I knew from my experience with the Spring Forward 15K that 6:50 per mile is too fast for me to start out on a 15K, and should be too fast for me to start out on a half marathon.
So I lined up with the 1:40 pace leader. He gave a helpful talk to the group before we started. Expect that the starting surge will pull us out to fast. Don't worry, we'll adjust down to the correct pace. People will flow past us. Don't worry about them. We'll be a little fast on the early part, maybe 20 seconds ahead of pace when we get to the hills; but the hills will be slow. We don't want to be too far ahead of pace, because coming down the other side of the hills will be faster than average.
That talk was helpful for me. I hung with the 1:40 leader at the start, and saw a pace of 6:45 on my Garmin. Sure enough, it came down. When it got to 7:25 at perhaps a half mile in, I decided I had to try to be my own 1:35 pace leader and ran on ahead. I knew I wanted a pace of perhaps 7:10 at the start, and did close to that for the first mile.
Later on, I found runners who seemed to be running a smart race about as fast as I wanted to go, and used them as pace guides. That would work for a mile or three, then they'd slow down and I'd pass them. I did keep an eye on the Garmin, and made myself slow down several times. In hindsight, this was perhaps the smartest thing I did in the race.
By the time I'd gone 3 miles, I was trying to run a 7:00 pace for the first 6 miles. At that point, a mile long gradual and gradually steepening uphill starts, followed by the interesting hills. I wanted to be strong enough to enjoy the hills. That part worked. Got through the hills on the roads, and into the cemetery. Got up the awful (but short) cobblestone hill, hanging left as advised whenever possible; had to take part of the bumpy center because some cheering spectators were on the first part of the left side. Sigh. Can't complain at them. But at least it was short.
The hills in the cemetery were challenging, but not so challenging that they weren't fun. I let myself run down the other side at a decent clip. About mile 8, a guy passed me. Checked the Garmin, and we were doing a 6:40 pace. Too fast for me that early, so I slowed to let him pass.
Got out of the cemetery, got down Elmwood Avenue to the Riverway Trail. Now I'm on territory that I've biked many times and run once. That trail from Elmwood to the Ford Street Bridge seemed awfully long, but I'm sure that's mostly because it was beyond mile 10. The gratuitous short inclines that really annoy me on a bike were challenging at that point, but I knew they were short and I could power up them running.
Standard advice is to be running faster on this section. At this point, I'm doing well to maintain my average pace. So I just do that. Just past mile 10, I look at the folks ahead of me and decide they're pretty smart runners. I think I'm done passing people. But some of those folks burned out; I think I passed 4 more (and was passed by 2) after that point.
The curly ramp up to the Ford Street bridge was the last somewhat steep stretch. No big deal for me today, notwithstanding the report from a guy I work with that it about did him in one year running Flower City. Get to the top of the bridge. Here's where I'm supposed to turn on the afterburners. Click. The afterburners are not functional at this point.
So I soldier on, running just slightly faster on the gentle decline past Ford Street. Try to keep it up on the level and slight incline after that. When I come in sight of the finish line, I see 1:31 and change on the clock. Give it what I have (which isn't much) for a finish line sprint, hoping to beat 1:33. End up with chip time of 1:32:20, gun time of 1:32:24.
I'm whipped at the finish line, but recover reasonably well. While stretching, I get a text from my daughter. She had mistimed her walk from home to the race, and arrived too late to get a photo of me crossing the finish line. But we do get to have a nice post-race chat. Check the results. I'm first in the age group, which means I get a jar of organic cashew butter from one of the sponsors in addition to the beer mug award for the age group: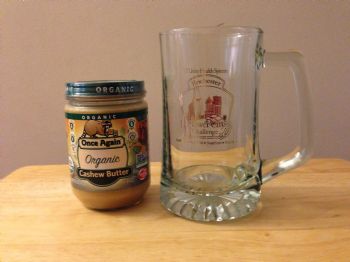 And of course, there is a finisher's medal: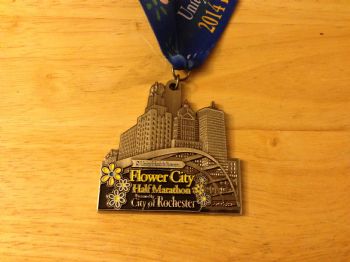 After the awards, a guy I didn't recognize walked up and told me he tried to catch me but just couldn't do it. I later figure out this must have been the second place guy in the age group, with chip time 1:32:28, gun time 1:32:30. I think gun time is official, so I won the age group by only 6 seconds. Perhaps I wouldn't have won it if I hadn't tried to sprint to beat 1:33.
Stats:
Garmin reported 13.24 miles in 1:32:47, as I didn't get the watch stopped right at the finish line, for an average pace of 7:00. Using the measured race distance and presumably gun time, the official results list an average pace of 7:03. Garmin reported mile splits are 7:11, 6:54, 6:50, 6:49, 7:00, 6:57, 7:07 (the long gradual uphill), 7:00 (mostly rolling hills), 6:45 (including the downhill side of the last big hill), 6:53, 6:56, 7:03, and 7:08. No, I wasn't able to pick up the pace for the last two miles; but I was able to keep it close to average. Good enough.
Miscellaneous observations:
Lots of spectators cheering, particularly early in the course and late in the course. Spectators telling us we're almost done is comical at mile 3, almost cruel between mile 10 and mile 12.
I think I ran this race a lot smarter than I ran the Spring Forward 15K. Part of that was simply knowing that faster than 7:00 is too fast for me to start out. Part of it was having the discipline to deliberately slow down during the first 6 miles when I noticed my pace creeping faster. It worked, and I was strong enough to enjoy the hills.
FleetFeet helpfully had signs for the mile markers and every 5K increment. This let me know that the Garmin was overestimating the distance, and my true pace is slower than Garmin reports. It also let me look at the watch at 15K, and see 1:05 elapsed (no seconds with the time over an hour). That cheered me up, because my chip time on Spring forward was 1:05:59, so I was right around my 15K average pace at 15K, but in much better shape to continue running.
Runners are incredibly friendly, helpful people. That 1:40 pace leader found me after the race to ask how I'd done. He told me it's typical for his group to leave him behind, after needing him to set a slow initial pace for a mile or 3. I just happened to be the first to take off from the group this year. The 8:00 pace group leader from training looked me up, and told me I could get to a sub-1:30 half. (I'm not so sure it's wise to try, but he means to be encouraging.)
I tentatively think I'll be back for Flower City 2015. The alternative would be to train for a spring marathon, and I don't think full marathon training will fit into my schedule during tax season. Half marathon training was difficult enough to schedule in. But training for the Rochester Marathon in September seems possible. I'll make a decision on that no earlier than Tuesday.
FleetFeet made a bunch of photos public, but I didn't find myself in any of them. I noticed several professional photographers on the course. I tried to smile for all of them, and I waved at some of them. I expect I'll have an opportunity to purchase pictures of myself running.
Goals: I definitely finished upright, with a smile on my face. Tuesday's 4 easy miles is yet to do, but from how I feel Sunday evening it should be No Big Deal. I ran faster than 1:33, as I thought was possible. I ran smart enough that I don't think beating 1:30 was possible today, and I might have either injured myself or flamed out and had to walk if I had tried. I'm happy with under 1:33 and injury free.
All in all, I'm calling my first half marathon a smashing success.