Yesterday I stepped waaaaayyy out of my comfort zone. Way, way out. This is a journey 14 years in the making.
August 13, 2000. I thought it would be a good idea to get on a bike and ride it for the first time in about 20 years. I got about 2 houses down from my own house, and I kind of freaked out with the wobbliness, I slid in gravel, I hit a retaining wall, and I fell about 10 feet.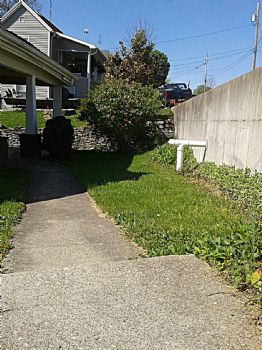 (this is where I fell, over that wall on the side of the road, into this yard)
The fall shattered my right shoulder, leading to an emergency replacement. The surgeon was very bad, and in addition to not putting in the correct size prosthesis, he also removed two of my muscles -- my pectoralis major and my supraspinatis. These are the muscles responsible for forward and sideways lifting. I ended up with an arm that just hung at my side. Six years went by, and the shoulder never stayed in the socket. It would get hung under my collar bone, and it would put pressure on the rod going down through my arm bone, and it kept fracturing it. Finally a doctor replaced it in 2006 and tried to make it right. He said it looked like a bomb had gone off in there. He really couldn't do much, but at least it quit hurting for a while. I still had no range of motion. My arm just hung at my side. In 2009, I fell in my kitchen and broke my arm again. This time they had new technology, and they replaced my bad shoulder with a reverse shoulder replacement. It reversed the position of the ball and socket, and allowed the deltoid to do the lifting. After healing from my surgery, I could actually move my arm!! For the first time in 9 years, my arm was about 80% functional! However, I ended up with a bacterial infection following the surgery, and I had a picc line for several weeks and oral antibiotics/anti fungals for a total of 6 months. What a mess. Eventually it all healed, and I still have about 80% function in my right (dominant) arm.
The bicycle accident really had an impact on me. I never wanted to get on a bike again. Not ever.
But last year, something clicked in my head. I was an injured runner. I love running, and between a hip flexor injury, a meniscus tear, and a fractured tibial plateau, I was out of commission all last year. I had to do something to maintain my fitness. I started swimming, and I discovered I loved it! I'm slow, but I'm actually quite good at it. And then the thoughts of a triathlon started popping into my head. What the heck?? I was scared, but I knew I wanted to do it. I wasn't going to let my absolute fear of the bicycle stop me.
I did a little practice tri in March. Indoor swim, bike, run. It was fun. But I knew one day I would have to get out on the road and ride like a grown-up.
That's the back story to yesterday's tri.
The day started with a scare. I let my dog out at 5:00am, and he was barking and carrying on at the neighbor's window. I went outside to stop him, and a drunk man stepped out of the shadows. I thought, "Oh crap!" I didn't know what to do, so I acted like I wasn't scared, and pretended I was in control. He turned out to be a nice enough guy, trying to talk to a girl in that house. Yeah, I'm sure she was impressed with his drunkenness at 5:00am.
I got to the triathlon, and my swim went really well. I was faster than I expected, but I hadn't learned how to pass people in the pool. So I slowed down in the bottleneck at the end of each lane. I'll have to figure it out.
My favorite picture of the tri is when I'm standing by the pool. You can see the surgical scars on my shoulder, and my lack of muscles where the surgeon removed them. And you can see my deformed toes where 30+ years of rheumatoid arthritis has destroyed them.
I was nervous getting on the bike. I took off down the bike path and onto the open road. A couple of men passed me on their bikes. Okay, I was alright with that. A car passed. I realized I was alright with that, too. Up hills, yes, they were okay too! Then I realized I was actually okay on the bike!!! My front derailleur, however, was not okay. While climbing a long, steady hill, my gears did not shift out correctly in the front. It was apparent that the derailleur was damaged last week when the bike rack (and bikes) fell off the car. I had to get off my bike and walk it up the hill. When I got back on, I got the gear working on the downhill. That was my only bike issue. I pulled into the transition area, and I was so happy to have survived the bike!!! I realized I could do it, and it wasn't a big deal!! All those years of being scared -- and for what?? Nothing. 15 miles over hills, with traffic, with other people. I was good with that!!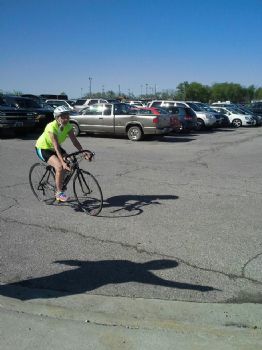 Then came the run. My legs were rubber for the first half mile or so. But then I got in my rhythm, and that cross country 5K was a piece of cake.
I was so pleased with my tri. All those years of being scared of the bike. I realized that most things we're scared of are really not worth being scared of. It wastes a lot of time being scared of something silly. Yes, that bicycle accident changed my life. It left me with a useless arm for 9 years. It gave me a panicky feeling just looking at a bicycle. But in the end, it was just a blip in the grand scheme of things.
Don't be scared!! Step outside your comfort zone, and face your fears!! It is exhilarating!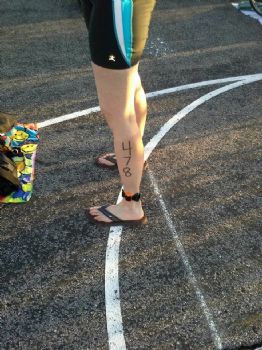 (body markings)
(the finish line)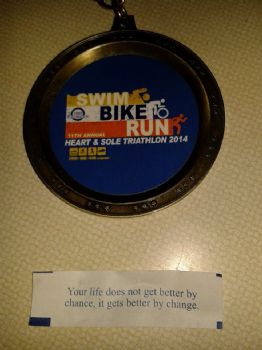 (Did I mention I got an age group award?)