Its been raining since LAST weekend when my sister came in. Two days ago we missed a record rain fall by 1 mm!! Woke up to snow blanketing the ground yesterday, but it turned to rain and got washed away. I think Darling Daisy is growing webbed feet!!
The trails on the 'sunny' (What's that?) side of the river were just beginning to dry up, but are now a quagmire:
One thing we saw was massive tree cuttings all over -the beaver are awake and voracious!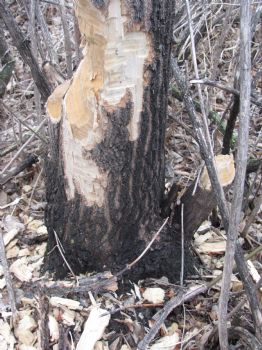 They were even feeding on trees they don't normally touch like this diamond willow: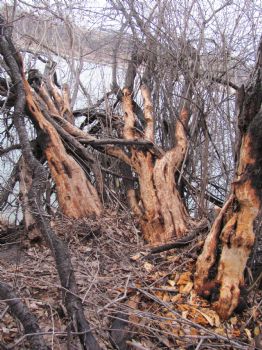 Even the birds were hunkered down against the cold winds:

Close up of pelicans and comorants :
One good thing about the beaver mowing down all the trees -the wood chips make nice trail cover :P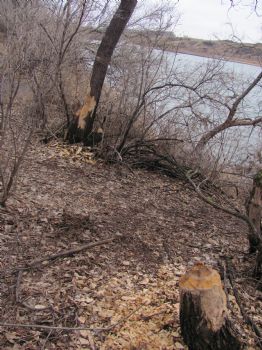 It took Mom and I 95 minutes to hike the trails home from the Farmer's Market, 6 km.
Unfortunately, there is no beaver sign near where we live :( So not likely going to score some photos of them.
I confess to getting a little stir crazy. We go out shopping and are trying to hike the wooded trails but they are really getting waterlogged. Both Mom and I don't like walking on paved paths, we really feel it in our joints. Spikes are useless in slick mud :P
I have been off my diet, as far as boredom snacking goes. I eat a ton of fruit and veggies as my main meals so that doesn't leave me healthy snack options. For some strange reason I always crave salty snacks even though I have never used salt in my meals (told a long time ago as a child it was bad for my RA) My Mom and I have been getting on each other's nerves. Me wanting to do more around the house, she won't let me. She has even started doing the dishes again even though she was allowing me to do that much.
I miss my bridge club activities and work and being at home with my high speed internet and big screen desktop computer. This internet is the slowest available, my Stepdad is a tightwad even though he is loaded. He recently had to buy a water softener system to replace the one that broke down -he got a steal of a deal, but is running into trouble trying to install it. He has been welding and all kinds of things but not having much luck getting it going. Been at it for four days now -probably a professional would have gotten it going in a couple of hours. Naturally between that frustration and trying to fix up the bathroom to Mom's exacting standards - no white sealer, has to be clear, and a very small amount thinly applied so there is no beading or excess. Topping it off with him suffering a cold and Mom's frustration with cleaning up after him and being in pain with bad arthritis in her hands, she has been flying off the handle lately. I really feel like I have tripled her workload and would just like to get back home in my peace and quiet! Having had my right arm in a cast since Dec 23 has given me lots of practice getting by one handed, even when only two fingers work on that hand!
You guys lift me up with your well wishes and goodies, and I thank you for making my dark dreary days a little brighter! You are the best!