Saturday, April 26, 2014
That's what my mom use to say if someone told her that she was fat. Makes me think of her a lot. A friend of mine's boyfriend always complains about her weight and anyone else who has a weight problem. Told her about it and she says that she's going to use it the next time he says it. Reminds me of my dad's oldest brother in him saying something like that. The friend's boyfriend said something about my weight last night and almost said that to him. The next time he says that, I'll just say what my mom said. I'm not fat, I'm just undertall.
Dad is okay but still swollen in his legs. I thought that they would be worse with yesterday with the two of us doing a lot of sitting down. He still has trouble walking.
Another friend who I go to church with and known for years ended up replacing her 13 year old Nissan Altima with a newer Altima. Her older one had over 238,000+ miles on it and needed way too things to be fixed and would cost way too much money to fix. So yesterday she went and got herself a new one. She had a tan one and now she has a red one. Another friend (who was my preschool teacher) has a Nissan Altima in red. And they both live kind of near each other west of town. Let's hope that they don't get into the wrong vehicles tomorrow after church.
We are having a storm right now. No thunder but lightning. And its raining but it's light. We are suppose to get some rain. We sure need it. Its kind of dry and when the farmers are out in the fields you can see the dust flying.
Out of 8 dish cloths that I need to make, I have at least 3 done. I have 5 more to go before I'm done with my youngest niece's wedding gift. May make something else for her and her fiancÚ before the wedding. I have to do 2 pot holders for a friend in New Mexico and my grandniece's afghan. May find something small and quick to do to add to their gift. If I can't get to sleep tonight I may make another one of the dish cloths in the color that I just got done making one in. I have two of another color. I have 2 more colors to do in dish cloths.
I did print out the plans for the 2 trips to Minnesota last night and finished cutting out the coupons this morning before we went up to Target. I even used one on some Dove Dark Chocolates that have sea salt caramel in it.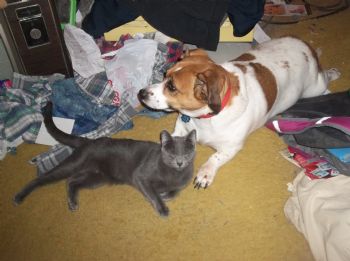 Here's a picture of my furkids. Eva the cat and Lady the dog. Eva is 2 years old now (had her since she was 18 months old) and Lady is 6 years old (had her since she was 2 months 2 days old). I was getting dressed one Sunday morning and I was hoping that they would stay like this until I got my camera out and took a photo of them together. And I did.