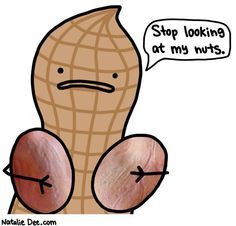 My NUTS were swollen to almost twice their normal size. I tested them, feeling the weight in my hands. Then I popped on in my mouth biting gently. My nuts were sweet and tender. They crushed under the gentle pressure of my jaw. Perfect. That's how I want them after they soaked in water for two days in the refrigerator.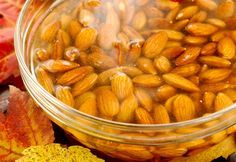 Yesterday the nuts sat an extra day in the refrigerator soaked, cold, and swollen. I didn't feel like processing them into nut milk as I have been battling cooties. Today I took my soaked nuts and fed them slowly through my juicer with a bit of water. It ground them up into a fine paste, pressing the almond milk out through the fine screen into a collection bowl below. Eureka I have NUT MILK ! No straining required.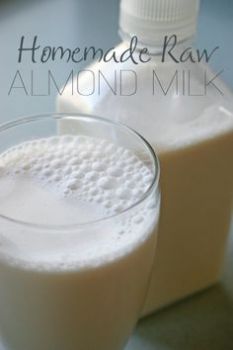 It only took a few minutes to make my Almond Nut Milk. I put the whole soaked almonds down the Angel Juicer a little bit at a time as I didn't know how it would like the process. It took them just fine. The first milk came out thick like a heavy cream and it tasted like heavy cream from a cow. It has a slightly sweet natural flavor. Yum. Then I ran the almond pulp through again with some more water. I wanted to make sure I didn't miss any nutrition. The next run through came out tasting like store purchased almond milk. Not as rich but still quite tasty plain. One cup of soaked almonds made 6 cups of rich almond milk. It's much richer than store purchased. It could be cut down further with water, but I like it the way it is. To get the 6 cups of almond milk - I used 4 cups of water to help juicer squeeze the most out of the nuts. Then I added enough water to my quart jars of milk to make 6 cups. The nuts had over a cup on milk in them that was released. The end result was 6 cups. I flavored the 6 cups of milk with 2 tablespoons of Agave Nectar. (I would of used dates, but I am out of them.) 1/2 tsp. of vanilla. It's perfection, so deliciously yummy. You can make the milk thinner or thicker depending on how much water you use. Taste it and see how thick you want it. Using 6 cups of water was just right for me. Soak your nuts if your going to make almond milk. It removes any inhibitors that can affect your digestion and it increases the nutritional levels of the seed. When seeds germinate they increase in nutrients. Rinse your nuts well before grinding them. No nut bag was needed with the juicer. The milk came out creamy.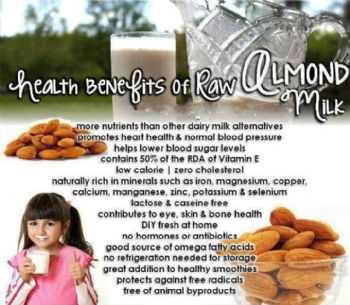 According to the Spark Caculator, 1 cup of home-made almond milk has 5 grams of protein. It is high in vitamin E, 30.8% of the RDA. Has a similar amount of manganese.
What it doesn't have is Cane Sugar, Locust Bean Gum, Gellan Gum, Sunflower Lecithin, carrageenan, artificial flavors, or other added unnatural processed ingredients. Which according to some research CARRAGEENAN has been linked cancer, digestive issues, and more. Why would one want to drink something that over years could increase their chance of getting cancer? Artificial and natural flavors, which come from chemicals are formed with MSG. MSG is a powerful cravings creator and neurotoxin which causes brain damage in normal healthy people. Hello, I don't want to serve up myself a glass of that stuff.
1 cup of their almond milk has only 1 gram of protein vs. homemade which has 5 grams. Which is better? Homemade. Store purchased almond milk has less calories. I could reduce mine by adding more water if I wanted to, but I prefer the nutrition levels in homemade. They add chemical vitamins to theirs to make the nutritional intake look good. There is no comparison between homemade and store purchased.
Several days ago hubby and I went to the grocery store and came back with some almond-coconut milk. I was being lazy. But that was my last straw to using store purchased milk. The label on it was close to the ingredients of the other brands with the exception of having monksfruit as a sweeter. Over the next few days I consumed it. Each day I developed an increasing amount of gas, farting. That is not very lady-like. I was trying to figure out what I was reacting to. On the last day of testing to figure out the mystery I tried the milk again. I sat down with my protein almond milk store purchased. All of a sudden I was wet. Darn. What happened. Warm wetness, I better check cause I don't do things like that. OMG. I hadn't even finished the glass of coconut-almond milk when my stomach protested. I traced the cause to monksfruit. It's made by the company that makes splenda. While the fruit alone is probably fine, the incorporate some added ingredients. Humm. It got me thinking the way they processed their monksfruit is not very natural. That is the straw that broke the camels back. No more store purchased milks for me.
If you don't have a juicer, you can still make homemade almond milk using a blender. You have to strain the end product through a nut bag to remove extra pulp. My juicer strained the nut milk, so I didn't have to do that. It made the process fast, pain-free.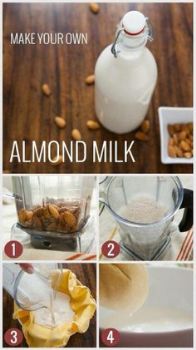 Like this.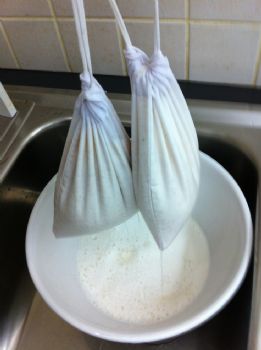 Making the almond milk at home was easy. So very easy and inexpensive. One pound of almonds is 3 cups of almonds. $7.99 will make me 18 cups or more of Almond Milk. At our local store each container runs around $3.99 or a bit less depending on the sale of the day. The flavor is better on homemade, no chemicals added. No tummy issues with homemade. Leftover pulp is going to be used for making Almond cookies for hubby. So from one cup of almonds I get cookies and milk. What a deal. No part of the nut is wasted. The best thing about homemade is it is made with love and healing energy.