I have found hard evidence in my personal journey that proves beyond a shadow of a doubt that numbers on the scale is not the defining factor.
I am going to present evidence and facts much like a lawyer would to convince you to quit fretting every time there is a slight uptick or no change. Honestly folks, it's time to stop the madness.
Let me start by asking a very pointed statement.
I believe that we as a society are so externally focused that we would rather be buried in our little black dress than wear a few sizes larger and live. We have our twisted societal values to thank for this warped sense of value and life. Peoples actions speak loudly and many live this way. Loss at any cost and if they don't see the numbers that satisfies their definition of accomplishment, they meltdown and quit.
EXHIBIT 1)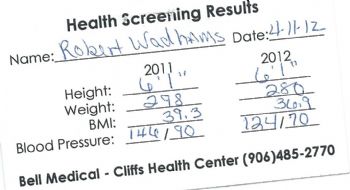 Fact: From 2011 to 2012 I "only" lost 18 pounds for an average of .35 pounds per week.
Fact: In spite of "only" losing 18 lbs, My BMI dropped from 39.3 to 36.9.
Fact: The change in blood pressure was DRASTIC.
Statement: According to the published norms of what to expect when one is successfully losing weight (1-2 lbs per week), that year was a complete failure. I did not lose the expected 52-104 lbs that someone who is successful would have done. #fail
Exhibit 2)
Lipid profile although no real weight loss has occured from 2012-2014
2012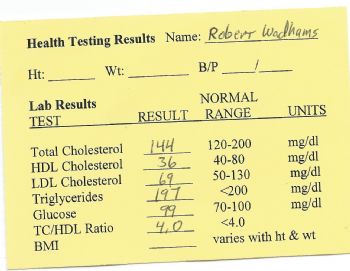 2014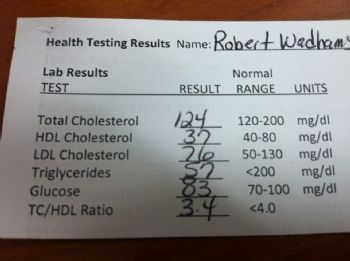 Fact: I had zero weight loss from 2012 to 2014. If anything I gained 15 lbs after my 70.3 in 2013 and then subsequently lost (most of) it.
Fact: There is a SUBSTANTIAL drop in triglycerides. From a borderline high of 197 to a 57.
Fact: there are also some smaller improvements in blood glucose and cholesterol.
Why are triglycerides important?
"What are triglycerides?
Triglycerides are a type of fat (lipid) found in your blood. When you eat, your body converts any calories it doesn't need to use right away into triglycerides. The triglycerides are stored in your fat cells. Later, hormones release triglycerides for energy between meals. If you regularly eat more calories than you burn, particularly "easy" calories like carbohydrates and fats, you may have high triglycerides (hypertriglyceridemia).......T
he American Heart Association (AHA) recommends that a triglyceride level of 100 mg/dL (1.1 mmol/L) or lower is considered "optimal." The AHA says this optimal level would improve your heart health. However, the AHA doesn't recommend drug treatment to reach this level. Instead, for those trying to lower their triglycerides to this level, lifestyle changes such as diet, weight loss and physical activity are encouraged. That's because triglycerides usually respond well to dietary and lifestyle changes." - Mayo Clinic website
www.mayoclinic.org/disea
ses-conditions/high-blood-
cholesterol/in-depth/trigl
ycerides/art-20048186
Although no weight loss occurred, there were MASSIVE internal changes taking place. According to AHA, I am well above "optimal". You don't get number like that because I lived like a dietary devil for a year then decided to eat a couple salads the week before the test. When it comes to numbers, "cramming" does not apply. Those numbers occurred because there was a consistent yet imperfect commitment to training and diet.
Statement: Many people would throw themselves under the bus if they plateaued for 2 years. It is a well known fact that distance training can be the kiss of death to weight loss efforts. It is difficult at best to train for distance performance and yet maintain a caloric deficit at the same time. On a personal level, many of the big losses I was accustomed to stopped as soon as I started going for distances beyond the half marathon. If all that is important to you is a number on the scale and that is all you use to define success, you are really missing it.
Truth: Get yourself checked to see what is REALLY going on inside. The running and the physical training produced results that means that I am a whole lot less likely to drop dead. You are in labor during your journey, about to give birth to something wonderful, don't be an abortionist just because things don't go your way for a few months. Suck it up and march, move forward one small change at a time.
The quaint sayings on motivational pictures and refrigerator magnets are not there just to make you feel better about failing to meet a goal. They are re-phrased statements of scientific fact. A commitment to physical exercise and training produces results that are more far reaching than simply wiggling into something cute. I cannot speak for everyone, but I was a train wreck when I started my journey, my body was more of a toxic waste dump than a temple. The rolls and jiggliness I had was an external symptom of internal dysfunction on a nutritional and emotional level. I will never know what my starting numbers were because I was too much of a coward to get checked. I wish I had done it because it would completely put the exclamation mark on this one fact, that even small changes in lifestyle can add up to BIG results in ways that affect you the most.
Scale-dependency ... I sentence you to life in prison with no possibility of parole. Rot in peace.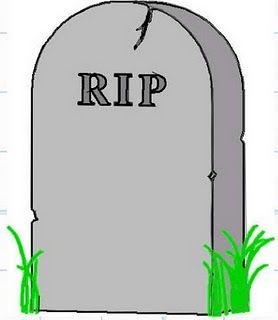 Look me up on Facebook..
www.facebook.com/#!/robe
rt.wadhams.7