Saturday, April 26, 2014
I've been and will probably continue to be out of sorts for a few more days. That said, today was the walk-a-thon that I got a team together for. The Cobb Street Quad. There are 4 families that get along reasonably well and we walked together for School on Wheels. It's a program for homeless kids doing everything from tutoring and mentoring, to supplying backpacks and supplies.
The weather forecast was the first hurdle. I thought for sure we would have drop outs. But I am proud, and a little surprised to say we all made it. And we all walked. It was pouring and chilly, but no one from our group dropped out or quit early.
My 8 year old and I are signed up for a 5K on May 31st. He would like to run it, but then he has no idea what that means. I told him depending on how he did today, maybe he could run the 5K next month. Our training will start next week. I already know that I can't "run", but he's 8 and I have long legs. I can walk fast and if we kept it to under an hour today just walking, no push to go fast, we can do okay next month.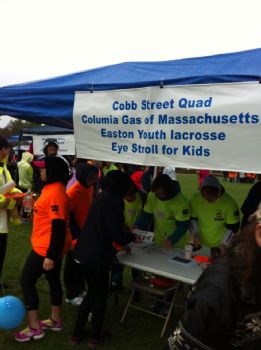 Our "team" (missing 2 in photo).