East Meets West Day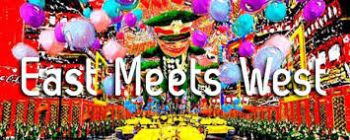 When : Always April 25th
It's East Meets West Day.... time for a few introductions.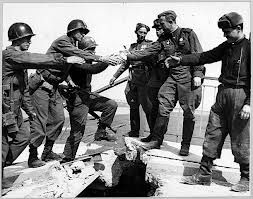 Many kinds of sports team hold annual East vs. West games. Most often, it's held by high school sports teams. It does not have to be limited to sports teams. It could be any club or organization that holds competitions, and can be geographically separated into and east and west groups.
These special games usually serve a number of purposes, including:
for charitable benefits
Sports booster club
to honor and/or showcase the best players of the season
Celebrate "East Meets West Day" by holding an East Meets West game or competition. Participate or attend one of these games, if possible.
Origin of "East Meets West Day":
Our research did not find the creator, or the origin of this day. This day most likely took hold and grew from annual "East vs. West" sports competition.
This Day in History April 25th
Highwayman Nicolas J. Pelletier becomes the first person executed by guillotine. (1792)
Charles Fremantle arrives in HMS Challenger off the coast of modern-day Western Australia prior to declaring the Swan River Colony for the United Kingdom. (1829)
Thornton Affair: Open conflict begins over the disputed border of Texas, triggering the Mexican–American War. (1846)
The last survivors of the Donner Party are out of the wilderness. (1847)
British and French engineers break ground for the Suez Canal. (1859)
American Civil War: Forces under Union Admiral David Farragut demand the surrender of the Confederate city of New Orleans, Louisiana. (1862)
American Civil War: The Battle of Marks' Mills. (1864)
Spanish–American War: The United States declares war on Spain. (1898)
New York becomes the first U.S. state to require automobile license plates. (1901)
World War I: The Battle of Gallipoli begins—The invasion of the Turkish Gallipoli Peninsula by Australian, British, French and New Zealand troops begins with landings at Anzac Cove and Cape Helles. (1915)
Anzac Day is commemorated for the first time on the first anniversary of the landing at Anzac Cove. (1916)
U.S. Supreme Court delivers its opinion in Erie Railroad Co. v. Tompkins and overturns a century of federal common law. (1938)
The United Negro College Fund is incorporated. (1944)
Elbe Day: United States and Soviet troops meet in Torgau along the River Elbe, cutting the Wehrmacht of Nazi Germany in two, a milestone in the approaching end of World War II in Europe. (1945)
Fifty nations gather in San Francisco, California to begin the United Nations Conference on International Organizations. (1945)
Korean War: Assaulting Chinese forces are forced to withdraw after heavy fighting with UN forces, primarily made up of Australian and Canadian troops, at the Battle of Kapyong. (1951)
Francis Crick and James D. Watson publish "Molecular Structure of Nucleic Acids: A Structure for Deoxyribose Nucleic Acid" describing the double helix structure of DNA. (1953)
The St. Lawrence Seaway, linking the North American Great Lakes and the Atlantic Ocean, officially opens to shipping. (1959)
The U.S. Navy submarine USS Triton completes the first submerged circumnavigation of the globe. (1960)
Robert Noyce is granted a patent for an integrated circuit. (1961)
Teenage sniper Michael Andrew Clark kills three and wounds six others shooting from a hilltop along Highway 101 just south of Santa Maria, California. (1965)
Vietnam War: Nguyen Hue Offensive – The North Vietnamese 320th Division forces 5,000 South Vietnamese troops to retreat and traps about 2,500 others northwest of Kontum. (1972)
As North Vietnamese forces close in on the South Vietnamese capital Saigon, the Australian Embassy is closed and evacuated, almost ten years to the day since the first Australian troop commitment to South Vietnam. (1975)
American schoolgirl Samantha Smith is invited to visit the Soviet Union by its leader Yuri Andropov after he read her letter in which she expressed fears about nuclear war. (1983)
Pioneer 10 travels beyond Pluto's orbit. (1983)
In Israel, John Demjanuk is sentenced to death for war crimes committed in World War II. (1988)
Violeta Chamorro takes office as the President of Nicaragua, the first woman to hold the position. (1990)
Michele Alboreto was killed testing an Audi R8 at the Lausitzring in Germany. (2001)
Bulgaria and Romania sign accession treaties to join the European Union. (2005)
Boris Yeltsin's funeral – the first to be sanctioned by the Russian Orthodox Church for a head of state since the funeral of Emperor Alexander III in 1894. (2007)