Wednesday, April 23, 2014
Well today I stepped on the metal rim that fastens a bird bath to the railing of the deck. It reacted just like a rake that is lying on the ground. It swung up and hit the inside of my calf. It looks like I have two knees on that leg. Also the bolt that would fasten it to the railing punctured the skin. Off to the Dr's. On antibiotics managed not to have a tetanus shot as I had one when I broke my finger slightly less than 2 years ago. Also pain meds. Guess most of my workouts will be upper body for a while.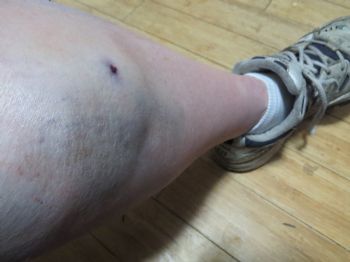 My boo boo not my knee.