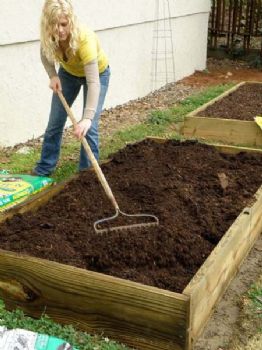 I am enjoying the wonders of the path that eating a healthier lifestyle has lead me on. Never before have I opened the door to growing a winter garden. High costs of food and hubby's reaction to the bills was my motivation.
The more I learned, the more I realized that home grown foods are more nutrient dense than foods sold at the grocery store. Raising food has become a new-found passion, all because of a small diet change. This first photo is NOT my vegetable garden or of me, but the beds are a similar size placed next to the house between us and the fence.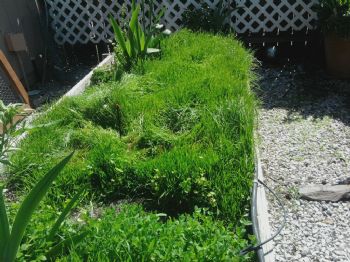 In this narrow space, a tiny scrap of land I raise a patch of wheat grass. It fills most of the vegetable bed. The benefit of raising wheat grass outdoors is I can cut it often harvesting it for my green juices. It regrows quickly and does not have to be replanted unlike grass grown in flats. Since it has a large amount of soil for the roots to go down, it can draw up nutrients deep out of the earth. The sunshine increases the chlorophyll content which is added nutrient density. If you google wheat grass medicinal properties online you will find it has many different healing effects. I find it gives me lots of energy. It is a must have. If I don't get my daily dose of GRASS, I just don't feel as good. The difference in my HEALTH is very noticeable. The vegetable bed also contains a large parsley plant which I cut over and over again for greens. It keeps coming back growing larger and larger. There is an Iris at the other end, a plant I found displaced after some flooding last winter. Now that it has been restored to health I will plant it on the hill behind our home.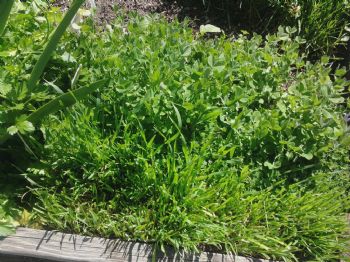 This is a close-up of some oat grass which is beneficial for the brain and nerves along with other good qualities. It has lots of B vitamins. It looks weird because it has had a bad haircut. Next to it I started some alfalfa and red clover for juicing. Red clover is good for cleansing the blood stream and lymphatic system. They all have super nutrition density. The plants were started from sprouting seed sold from Sprout People. One day I soaked some peas before we went on a trip. I couldn't use them before we left, so I planted them in the vegetable bed. They are sprouting peas which I can harvest over and over again for the greens. Pea shoots are very high in protein. In another pot I have flax seeds which grew about 8 inches high before I harvested and let them regrow for juicing.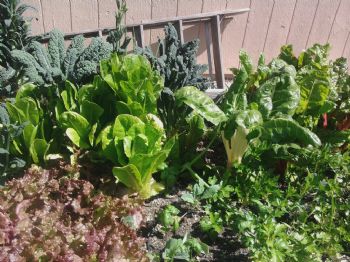 In the front vegetable bed I have Romaine lettuce, a red speckled lettuce, kale, Swiss chard, parsley, oregano, garden cress, and other herbs. The garden cress came from some plants sold at the grocery store for eating. It had enough roots that I was able to plant it in the garden. Now it grows and I cut, snip and it regrows for me.

Green onions were started by saving the white bottoms and replanting them in the beds. Green onions contain more nutrition than onions. The same thing happened with dill and lemon grass. They started as herbs purchased at the grocery store with a few roots. I harvest the tops and plant the bottoms. That is frugal thinking. I don't need to purchase any greens for juicing. All are home grown.

When I want to make juice I go and cut the lower leaves off, letting the top grow. It's the freshest juice ever. It has allowed me to harvest since fall. The bed is not very large, but I have not had to purchase green for some time. It blows me away how much money I have saved with these two vegetable beds. Nothing can compare to the sense of satisfaction of going outside and picking from the garden just before juicing. There are ADVENTURES in gardening. You do have to watch out for slugs, snails, and an occasional spider. Yes, I have done the I have got a spider on my neck screaming dance.

All while the cat watches in amusement. Our trash can holds a snail I salted that I accidentally brought in. The salt kills it, no poison needed.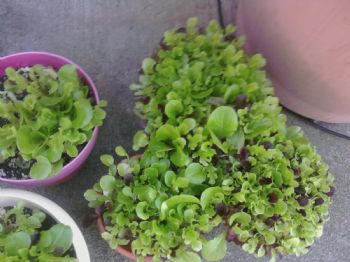 On the patio which takes up a lot of the yard I have pots of herbs, more wheat grass, sunflower sprouts, and lettuce. I am posting them to show you can grow your produce in a small pot on the patio. Again the lettuce I cut and it keeps coming up over and over again. It's easy to grow. This is my first winter garden ever. So I don't have experience growing winter plants. It was easy to grow the plants. All you do is run to the garden center, grab plants, and plant. Any scraps left over from juicing are composted. It's so earth friendly.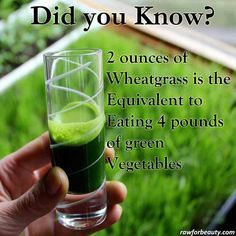 When I was 3 or 4 I used to put honeysuckle flowers in water so I could have some perfume. Little did I know years later I should of put them in oil to draw out the scent. It amazes me to look back now and know even back then I was a smart little girl, experimenting at such a tender age.

Yesterday I made a jar of rose oil. I read online that rose petals contain properties that fight cancer and other diseases. It has powerful antioxidents. Hummm. It got my mind thinking. I can juice some rosepetals when I make my morning juice. After all I have consumed rose tea sold at the grocery store. The flavor is nice and it's good for the nerves. Why not make a jar of rose oil. I took fresh rosepetals and some MCT oil and added them to a jar. Later I took a wooden spoon and pounded the rose petals to release the essential oils in them. The oil helps to draw the rose fragrance into it. Leave the rose petals in for a few days then remove them. The procedure can be repeated 5 times to increase the strength of the fragrance. Keep the jar out of sunlight. I can just imagine how wonderful it will smell.

My lavender is in bloom. I can make some rose lavender oil or perhaps some lavender oil all by itself. So many possibilities. Some online sites use dried flowers, others use fresh.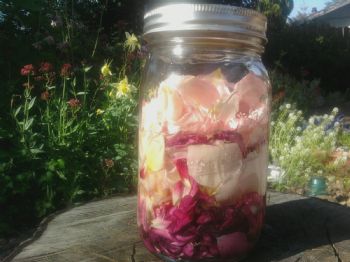 Juicing does not have to be expensive. It can be made very inexpensive. Right now I am mostly purchasing an occasional celery, cucumber, lemons, and fresh turmeric and ginger roots for juicing. I tend not to use very much of what I don't grow myself. The leaves in the garden give me more than what I need. It is not very much work to care for the potted plants and raised beds. Hubby has them being watered by drip irrigation. I mostly harvest an occasional weed. In the front yard I planted some cucumber, cherry tomatoes, and bell peppers. My yard is so tiny I put pots where I can.
Growing gardening has eliminated my need for taking a vitamin pill every day. I used to take loads of supplements that were expensive. The healing properties that come from food can not be duplicated by a chemicalized pill manufactured in a lab. There is no comparison. Growing and juicing my greens is less expensive then purchasing green powders in a jar that have been sitting on a shelf for months. Freshness matters. I feel it in my body. The results are evident. Gardening saves me money.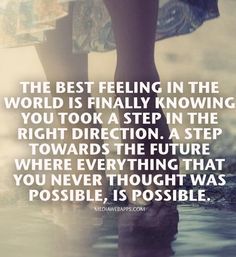 In the front yard, all in pots I have bell peppers, jalapeno, watermelon, cucumbers, tomatoes, and more herbs. The potted garden makes gardening easy.

What are you growing?