Happy Sparkiversary to Me!
Monday, April 21, 2014
Seven years on Spark - on again/off again but mostly on (65% login statistic). Lost a bunch of weight, gained some back, but mostly gained healthy habits that should last a lifetime.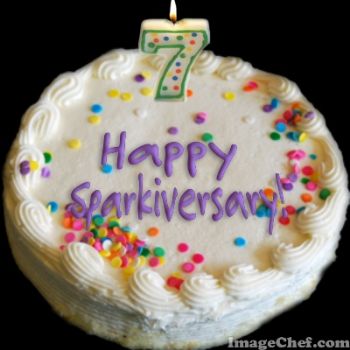 I've gained some great friends, too, including some people and prayer partners who've seen me through a lot of difficult times including the death of both my mom and my dad. You've been there through the good times, too - like celebrating with me when I reached goal, had some awesome NSVs, got my Master's. You've also packed with me and traveled with me to and from the States a bunch of times. You've shared your hearts in posts and photos, you've given me advice, and pushes, kicks and boosts when I've needed them.

is not just an emoticon! It's for real! Thanks for 7 awesome years!
So this has got me thinking --- Where do you think Spark People will be seven years from now? Will we still be here diligently typing in our recipes and recording our calorie counts and exercise minutes and racking up those precious Spark points!? Or will we be using some other technology to support our healthy lifestyle?