I think I must be unique...... which is nothing new in my life. I have B positive type blood, which only 6% of the people have. When I had to have my eye dilated for 2 or 3 months in a row, my eye did not go back down to the normal sized pupil when it was over. This happens to only 6% of the people. For the past 14 years I have something that causes various parts of my face or tongue to swell unexpectedly. Tests have been run but so far no one has found out what causes it to happen. It is not life threatening and it doesn't hurt, except when it's my tongue, then the muscles under my tongue hurt. But again, how many people have you met with this malady?
I suppose if I thought about it I could come up with a few more examples, but right now I think the reason I think I must be unique is that none of the usual things seem to work for my path down the "Healthy Lifestyle" road. A friend said, drink more water, especially first thing in the morning -- it works for me. I tried it, and gained weight. Others said, increase your exercise -- and I did! Instead of at least 20 min. per day, I increased it to 60 to 90 minutes, sometimes more! I gained weight. I decided to get drastic and cut my food intake to 800 to 1000 calories per day. Guess what! I gained weight.
I was actually doing better when I was being lazy and procrastinating about my due diligence of exercise. I very seldom eat more calories than I should. The only way that would happen is if I throw restaurant food into the mix. When you figure the fat and sodium they add to everything, it's a given no matter what meal I decide on, it will result in a one-pound weight gain.
But even with being unique, I know there are others out there who have their own set of problems with losing weight. We are humans, not made with a cookie cutter, so no one set of rules applies to us. What will work for one may not work for another. It is not a matter of "failing" it is a matter of finding the set of exercises and the right combo of foods that will lead us down that healthy lifestyle road. It's there, some where, some how, some way -- the trick is finding it. Eliminate the foods from your diet that cause "you" to gain; it's tricky, different foods affect different people in various ways. Right now, when I think of foods, the only thing I can remember consuming that is different is sparkling water that has been flavored with coconut. Zero calories -- zero everything! But ~~~ could it be the culprit? I never drink soda, diet or regular, but DH started buying these, and I tried one when we were gardening and I liked the taste. It may be zero calories, but it could be what's causing me to gain weight. Can't think of anything else, but I'm going to be watching my food very closely to make sure no new items sneak in. Nothing is beyond suspicion.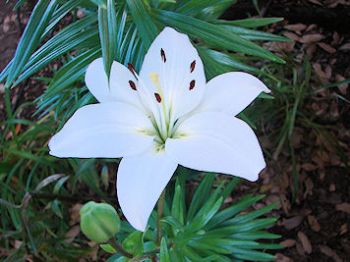 Happy Easter -- I hope you had a safe, blessed day!