THINKING! -- Always a bad thing to do
Thursday, April 17, 2014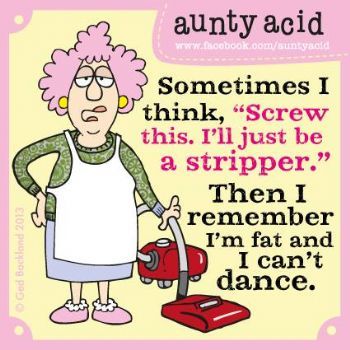 Now if a sign like that doesn't motivate you, nothing will. But seriously, have you ever had one of those days when you just feel like you'd like to turn your brain off?
I tend to over-analyze. I tend to dwell on things that I have NO control over. I tend to worry about when things will get done, if things will get done, and when they do get done, how will I handle all the stuff that needs to be done "then." Whoa! It's enough to give you one of those tension headaches.
So while I'm kinda feeling sorry for myself because I know I can't paint the entire inside of our new home (if they ever get it to that point) and thinking what a sorry life it is that we live when we get older, I decide to phone a girlfriend who is one year older than me. She asks if I'd like to hear how she's been doing. Of course I say YES!
Well, she tells me she was at her doctor's office, and I forget the name of the test they were running on her, but they found blood clots in her right leg. They put her in a wheelchair and pushed her over to the hospital next door where she sat in the ICU for the better part of the day. I'm thinking if it was such an emergency to get her there, why do they leave her sit there waiting!!?? End result is that they have been her on a blood thinner, something her cardiologist is not happy about, and she has to give herself some kind of shots in the stomach. She was told to sit a lot and elevate her leg. Of course she never was one to move around much, but now her leg is in pain due to the blood clots and being swollen -- plus those shots!!
And I'm thinking (good this time) that I'm pretty happy with the little aches and pains I have compared to some of the other stuff other people have. Amen! Now think of yourself -- don't you know someone way worse off than you? I thought so.