The first is that I am finally officially a trainer at Anytime Fitness, Ishpeming, MI. I can't totally explain why I needed to see my picture up on the wall in order to accept that I am actually a trainer but I guess I did. Maybe it is simply the fact that while so much of what has happened was verbal, this is physical, real. I can see it and touch it. It is a confirmation of what has happened and that it is no longer a plan or a goal, it is now a reality, and that is a game changer.
My pic and bio is the one on the lower right.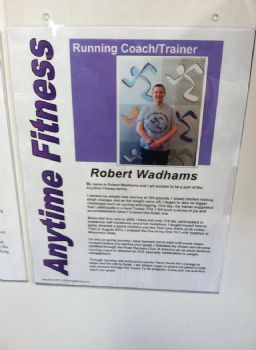 The BIO text on the poster reads:
------
My name is Robert Wadhams and I am excited to be a part of the Anytime Fitness family.
I started my weight loss journey at 385 pounds. I slowly started making small changes and as the weight came off, I began to take on bigger challenges such as cycling and jogging. One day, my trainer suggested that I participate in a local Turkey Trot. I felt such a sense of joy and accomplishment when I crossed the finish line.
Since that first race in 2009, I have lost over 110 lbs, participated in numerous half marathons and a full marathon. I taught myself how to swim, finished a sprint triathlon and the Teal Lake Swim (2.25 miles). Then in August 2013, I crossed the line of my first 70.3 mile triathlon in Wisconsin Dells.
On this on going journey I have learned not to wait until some magic moment before you pursue your goals. I followed my dream and became certified through the Road Runners Club of America as an adult distance running coach, obtained an ACE specialty certification in weight management and am currently working on becoming a certified personal trainer.
Through running and endurance sports I have found the courage to begin and the will to finish. I am always eager to share my passion with new runners through the Couch To 5k program. Come join me and let's reach our goals.
----------
I have another presentation scheduled for May 5th and the Couch To 5k program kicks off May 12th with a presentation and beginning runners clinic. I have some pretty clear goals in mind.
1) Finish my trainers certification this year.
2) Start ACE Health Coach certification
3) Start weight loss support group at the fitness center
4) Pursue a kettlebell instructor certification and do one on one kettlebell training.
May take a couple years to pull it all off but I am pretty consistent and motivated so no worries... I'll get there. I have a knack for making things happen :) just keep at it one step at a time and even if you only study two or three pages a day because things got busy, always do something to keep some momentum toward your goal.
I am making friends at the fitness center. Here is a pic after doing a very hot and sweaty step aerobics class... btw... a word about step aerobics... it's a great workout / balance training activity. I started out bumbling and feeling awkward too, don't let that stop you. I still bumble and stumble.. proof positive that white guys have no rhythm. I finally found something tougher than walking and chewing gum (can't seem to do that either).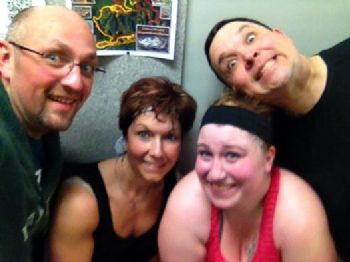 - group selfie after class :)
The second announcement is that I am going to be at the Spark Rally in Indianapolis, IN August 23rd and will be doing an approximately 20 min presentation.
I have always wanted to go to a function like this and have checked out the pics from previous years and felt that it would be so cool to mix and mingle with so many like minded people and share inspiration. Well, here is my chance.
It is really tough to get time off where I work and I work through most of my weekends anyway on rotating shifts. Needless to say the social life takes a hit. Add in being in a semi-remote location and things like this really don't line up for me. I had that block of time scheduled for vacation because the slot was open and fell on the weekend of half marathon trail run I really want to do. When Beth (~Indygirl~) told me the date of the event, it rung a bell, I checked, and Shazam :) Needless to say, no race for me....
.. Off to make my reservations....
Keep it EPIC everyone :)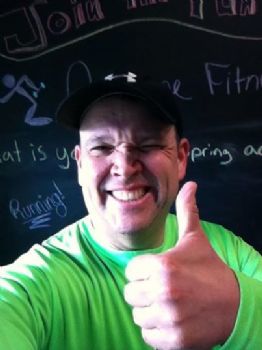 Friend me on Facebook.. :)
www.facebook.com/#!/robe
rt.wadhams.7