Today my daughter and I went on a run. It was hot and hilly, and we were having a grand and glorious time.
We live in the country, and we can run for miles without seeing anybody. And that was the case for the first 4 miles.
We saw some pretty horses. But one horse -- the one who wanted the most attention -- was very skinny. I hope he fattens up like his playmates.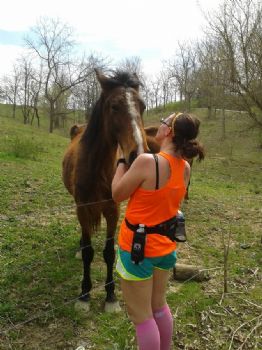 We saw a spooky and beautiful really old house. My daughter told me when she was a teenager, it reminded her of the Blair Witch house.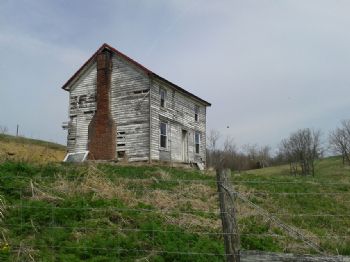 Then I saw a sign for an Amish store. It pointed up a hill.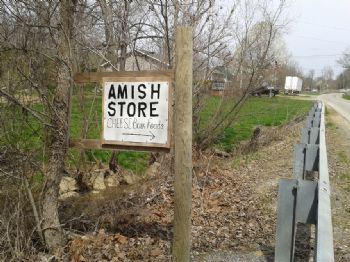 I'd never been up that hill, but there were two old men working on lawnmowers at a barn/garage in the intersection. We stopped and asked them how far that road went. They were funny old men. One man started telling me how running is bad for your bones. I told him not so! Then he said his brother runs and rides a bike, and his other brother does something or another. And his other brother. So I stopped him and said, "Wait! Your other brother? Is his name Darrell?" He said yes. He didn't get the joke. "My name's Larry. This is my brother Darrell. This is my other brother Darrell." But we all laughed, anyway. Then he said he drives, and rides around with a deer in the passenger seat. Sure enough, there was a deer in the passenger seat of his BMW. We told him to put it in the driver's seat so we could take a picture. There's just something funny about a deer driving a BMW.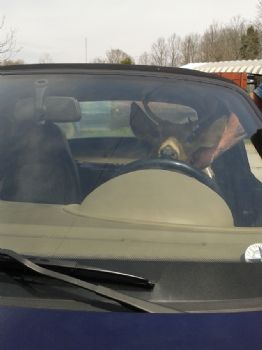 Then the old man told us a bad joke. "You wanna see a butthole wrapped in plastic? Look at your drivers license!" He laughed and thought it was the funniest joke he'd ever heard. We said, "Alright, now, we're heading on up the hill!" That was all the humor I could stand from those two old men. Hahahaha
Just when we thought our run couldn't get any better, I spotted a strange object on the side of the road. I believe it's the Kentucky Chupacabra!!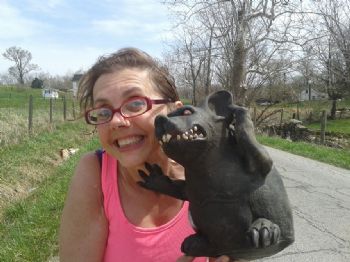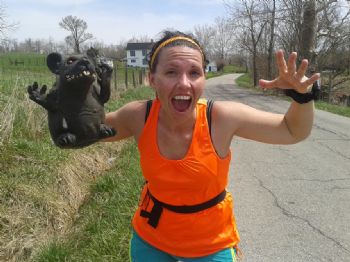 There was a burned out house with a toilet sitting there. Naturally, the photo-op with a chupacabra in a toilet.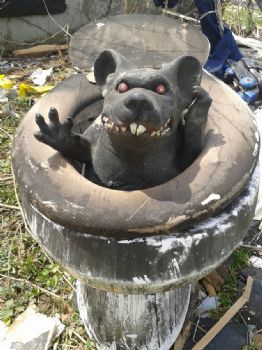 That was all the fun we could stand. We ran home. Yes, I took the chupy with me. He's currently in the washing machine, getting who knows what kind of grime off him. He's adorable!!!
Such a grand and glorious day.
Me and my awesome daughter/running partner