Sunday, April 13, 2014
A few days ago Charles (my husband - aka Papa175) started bleeding in his head behind his eye and his retina became detached. Tomorrow there is a specialist who is going to try and save any vision left in his eye. Right now he is almost blind in his left eye. They said he should have went to the ER when the floater appeared but he waited a few days, we never heard of it and didn't know it was so serious.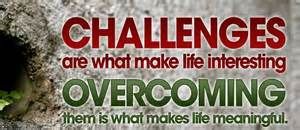 This has been so sudden that we were not prepared for the loss of work or the life changes. Insurance will cover down time, but his job requires he drive a stand up forklift for twelve hours. He cannot even drive the car right now. He is taking it somewhat well and we will work with what comes our way. God has been our strength and will continue to be.