Thursday, April 10, 2014
I made yummies!!!!!! Trip to Trader Joe's and scraping the cabinets led to this: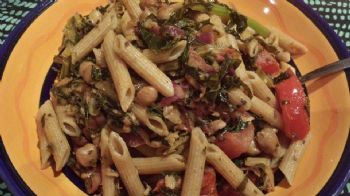 What is it you ask? Why it is sauteed cruciferous veggies with olive oil, thai chili paste, garlic, smoked pepper, cinnamon, ginger, fresh lemon AND lime juice, garbanzo beans, a can of sardines, rice wine vinegar, a little white wine, chopped tomatoes stirred in at the end, and sprinkled with toasted sesame seeds.
Tossed with some whole wheat penne pasta and wow-yum! Super delicious and filled with good stuff. Happy Tinasaurus Rex tummy