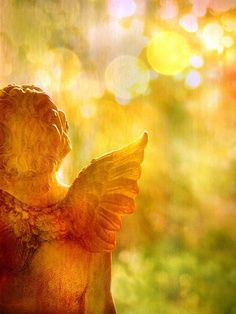 Sometimes you need an Angel. Things were going all wrong. Things that should of not of been hard and challenging were overly difficult. I struggled for a few months when hubby decided to intervene.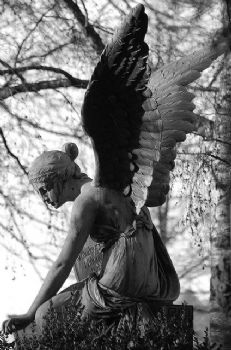 Hubby treated me to an Angel Juicer. Today she arrived in via UPS. She was packed up as snug as a bug in her shipping box. She shines brightly as she is made of polished stainless steel. He carried her to the kitchen for me. I gave her a quick bath and got her ready for juicing. I grabbed my purple kitchen scissors (they were on sale.) and went out to the garden to harvest. I gathered a large quantity of wheat grass, kale, collard greens, and peppermint to juice. Her first test was wheat grass. Most juicers have issues juicing wheat grass. She gobbled it up like it was nothing. Within minutes I had a full cup of juice. I never had to push down to feed it into the juicer. She ran quietly, never complaining about the work. Then it was on to the kale and collard greens. No problem. Apples required a little bit of cutting and pushing down with the pusher, but not too much effort was required. (I have used a Green Star Juicer. It required a lot more muscle strength.) She also took down hard vegetables such as carrots and sweet potatoes down with a little bit of pushing but did not require extra-ordinary strength.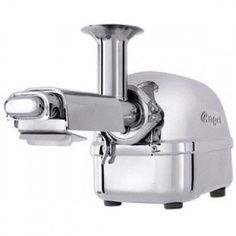 Angel is going to save hubby LOADS of MONEY !!! OMG. In comparison to other juicers I use lots of produce to make a quart. Angel hardly uses anything. 2 cucumbers and 1 carrot made a quart of juice. Each cucumber made about 2 cups of juice. Normally I go through bags of apples for hubby's juice. I hardly made a dent in the bag as it squeezed out so much more juice out of the produce. It is so much more efficient at juicing the produce dry. I got LOADS of juice out of the greens. The flavor of the juice is so much more intense than juice from other juicer. Red Grapes made Red grape juice. (Not pink like in the Omega VRT 400.) That means more nutrition gets into my body. A handful of grapes or small bunch made 2 cups of juice. You have got to love that. The pulp came out super dry in comparison the the Breville Juicer, Sampson Juicer, and Omega VRT. Yes, I have gone through lots of juicers on my journey. Angel has a 10 year warranty I think. Her screens are all stainless steel, there is nothing there to break as far as I can tell.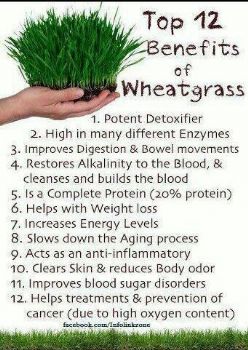 I drank a 1/2 a quart of juice for dinner. It had wheat grass, kale, collards, turmeric, and a couple of apples and lemons and a barely green piece of lemon grass. The lemon grass was so dry, but the juicer still pulled out juice from it. I was getting ready to toss it out, but I decided to see what would happen in the Angel. The flavor was so much more than other juicers. It was even more mentally energizing than the other juice. It felt like it had more nutrition. The juice was pulp free in comparison to other juicers. If I poured it through a screen there was a very fine bit, but nothing like other juicers. That makes it easier for the nutrients to be absorbed by the body.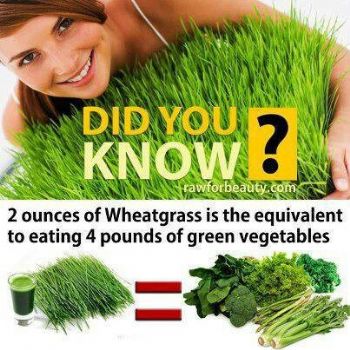 The workload to make the juice was so much lower than using other juicers. The assembly of the juicer is quick. It was easy to use. I didn't have to press juice out of the screen with a spoon as in the Omega VRT 400 and rinse the screen clogging up the sink filter with pulp. I would have to do that repeatedly over and over again making juicing with the VRT very labor intensive. When I dissembled the juicer, there was hardly any pulp left in the machine. The screen was made differently than other juicers. It has more surface area for the juice to pass through and the holes are much smaller. The tools that came with the juicer made it easy to clean. The kitchen was less work to clean when I was done due to the efficiency of the Angel. Out of all the juicers I have used which include: Champion, Norwalk, Green Star, Sampson, Breville, Omega VRT 400, this one is so much easier to use. The Angel juicer never clogged up. I never had to filter the juice through a screen. In comparison to other juicers it is a dream to use. It has brought back the joy to juicing.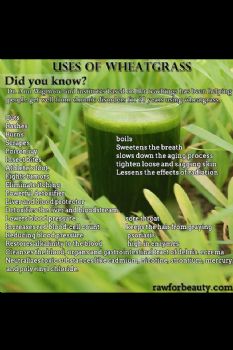 The next test will be to see how it stands up over time. The Green Star juicer developed cracks quick in the plastic exterior from the pressure required to push the produce through. It is much harder to use than Angel. The Breville lasted about a year of intermittent use alternated with the Sampson juicer. The Omega VRT 400 4 months. The company replaced all moving parts, but the juicer isn't made for intensive juicing or lots of use. (My opinion.) The Sampson's Screens kept breaking. The Beville went through two screens in a year and then the motor died. The Champion juicer still works, but struggles with celery and greens. It can't do wheat grass. The Norwalk I have is old. It works, but it cannot do wheat grass very well. Wheat grass is so filled with loads of nutrition I must have it in my diet. The only downfall is there is less pulp for the garden. It extracts so much more out of the produce that the pulp it makes is minimal.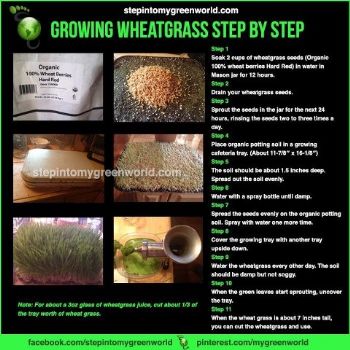 The way Angel is build is like a tank. It feels like it's meant to have a long lasting life.
Out of all the juicers I have used, the Angel breaks down the pulp so it looks like tiny strands of fiber. It no longer looks like chunks of pulp. It's almost looks like something that could be used to make paper. The way the pulp is broken into fiber like threads is different, unique to this juicer. It seems way more advanced than other juicers.




Hugs.