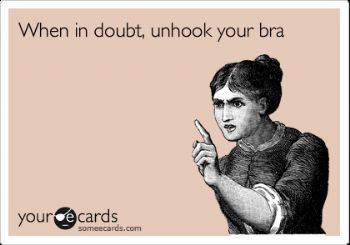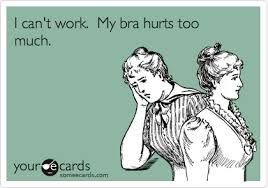 Disclaimer: This blog may contain TMI. If you cannot handle a frank discussion about breasts and bras, leave now. If you decide to read on, you will at least know that you are not alone. If you are male and do not wear a bra, at least this will give you one more thing to be grateful for.
A few years ago, I was actually professionally fitted and I was shocked to learn that I was a 46 D. When I was young and thin (but I THOUGHT I was FAT), I wore a 34 A or 34 B. The B cup was a little baggy, but the A cup squished in what little I had. This was way before the miracle bra. Anyway, in my mind, many years and many additional pounds later I STILL thought I was a B cup, but I could not find a 48 B. My thought was that, yes I am larger around, BUT my breasts were not really that big in proportion to the rest of me.
Suffice it to say, I HATE trying on bras, but out of necessity on Sunday, armed with $60 in Kohls cash to ease the pain of spending money on a necessity instead of a luxury, I headed out determined to pick up a sports bra for my 5K on Saturday and a couple other s for everyday. Besides. They were having a HUGE sale.
Down from my all time high weight of 277, my bra size is a little smaller now. The 46 and 44 Ds I had were a getting too big, so I thought I probably would need a 44 or 46 C. Apparently they do not even make a 46 C, so I was on the hunt for the perfect 44 C bra that would lift me up, be comfortable, look pretty and not cost me a fortune. Sports bras are easy. I EXPECT them to give me the "UNI-Boob" look and that is OK, because they are strictly for comfort, not fashion. The regular bras I was looking for were much harder to find and decide upon. It was not easy, but after TWO HOURS of rifling through hundreds of bras, going back and forth between the racks and the fitting rooms, I purchased one sports bra, 3 underwires, one conventional and 2 Bali "Comfort Revolution" bras.
I wore one of the underwires yesterday, and although it was comfortable in the fitting room, in real life, not so much. Today, I tried another one. By this afternoon, I was DYING of uncomfortableness. I was fine as long as I was not sitting. When I was sitting at my desk, the underwires were digging down on my stomach and rubbing my skin raw.

I could not get out of there fast enough. Before I left my office, I unsnapped my bra, so I would not be in agony on the hour drive home. I scurried out to my car avoiding eye contact with anyone, lest a coworker stop and engage in conversation and see me flopping around.
Lesson learned.

Ladies, it is VERY IMPORTANT when trying on bras that you also check to see how they feel when seated. Even with my Kohls Cash and sale pricing, I figure I threw out about $50 for 2 bras that I cannot return and will likely only wear for a dress up affair. I am swearing off underwires for good. Tomorrow, I will be sporting the Uni-Boob look while my poor skin recovers. Thanks for letting me rant.