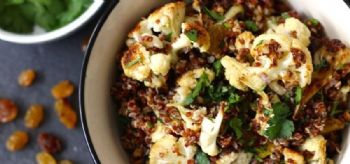 here's another recipe that I want to save, and try out soon!
From MindBodyGreen:
Spice Roasted Cauliflower With Quinoa
Ingredients
1 head cauliflower, separated into small florets
2 Tbsp. olive oil
1 Tbsp. za'atar
1 tsp. cumin
¼ tsp. red pepper flakes or 1 tsp. Aleppo pepper flakes
2 cloves garlic with skins on
Salt and freshly ground pepper
1 cup quinoa, rinsed and drained
1 2/3 cup water
3 Tbsp. finely chopped preserved lemon rind (flesh removed before chopping rind)
3 Tbsp. golden raisins
3 Tbsp. toasted, chopped hazelnuts, pine nuts or sliced almonds
handful cilantro leaves, chopped
Optional: drizzle of plain yogurt and/or pomegranate molasses
Directions
Preheat oven to 425 F. Line a baking sheet with parchment paper. In a bowl, combine cauliflower, olive oil, spices, and a good dusting of salt and pepper.
Spread on baking sheet and add garlic cloves. Bake for 35-40 minutes, stirring every 15 minutes to get the cauliflower evenly browned.
Meanwhile, bring water to a boil in saucepan, then reduce heat and add quinoa. Cover and simmer 15 minutes until liquid is evaporated.
Remove cauliflower from oven. Remove garlic cloves and let cool. Once cooled, squeeze garlic from skins and mince or mash with a fork.
In a large bowl, fold together cauliflower, garlic, quinoa, preserved lemon and pine nuts. Garnish with cilantro, and perhaps some yogurt and pomegranate molasses. Tastes great served warm or room temperature. Serves 6-8 as a side dish.
www.mindbodygreen.com/0-
13216/spice-roasted-caulif
lower-with-quinoa.html