Tuesday, April 08, 2014
Since 2010 I have signed up for races in order to make myself go to the gym. Last year I had knee problems and didn't sign up for anything other than a 5k. This year I am registered for two half marathons. That length is perfect for me to finish with an official time and doesn't really take any extra training time than what I currently do at the gym.
My first half marathon of 2014 is in 39 days and I am excited. I joke a lot about how slow I am. And I am very slow. But I finish which is always my goal. I am not the least bit competitive so time has never been a consideration for me. I do hope to beat my fastest time but it's no biggie if I don't. My current fastest time is 3 hours and 27 minutes. See, not fast. But I finished!
My sister and nephew are volunteering to pass out medals at this first race and I am so freakin' excited! I would love to get my medal from my nephew. Or from my sister but she'd let my nephew have the honor because she knows how much I love her kids.
My sister is the reason I started signing up for races. She's always been a runner and she is very fit. She is so supportive of me and never even commented about my weight unless I brought it up. And she never made me feel bad about it. Whenever I want to talk fitness I go to her. She cheers no matter how slow I am. It's really wonderful. Sometimes she gets me fitness magazine subscriptions and I realized that if anyone else did that I would be insulted. But receiving them from my sister just feels like support. She understands.
This year we are doing one race together. We don't start in the same corral and she always finishes before me but she is there at the finish waiting for me so we can celebrate together!
But I tell her none of that or else she will get all cocky. LOL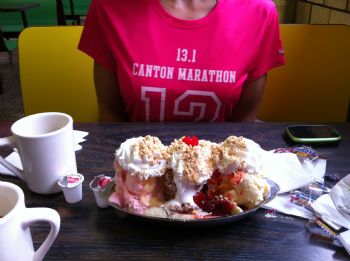 This is how we celebrated our last race together.