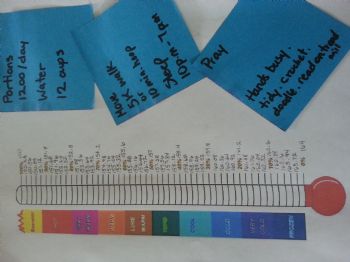 I ate my fridge and my scale squealed on me. My jeans all shrunk, same with my shirt, bra and skivvies. I thought that my clothes shrinking would bother me, but, it's looking like Spring in Ontario (7 robins spotted on my 5k walk this morning ~ the first of 2014!!!) and I'm looking for a ynew wardrobe FILLED with pastels. So what if it's a size 12 instead of 10?
Big deal.
Hubby keeps feeding me. It's his love language. His way of saying, "thank you-dear-wife-for-not-killing-
yourself-when-you-killed-t
he-car", & "thankyou-for-not-croaking-aft
er-your-surgery", and "thank you-for-dumping-that-job-that-
stole-so-much-energy-and -sanity", "We missed you being home".
So, I would eat and eat and eat and eat.
No need for me to be rude. Right?
So, I jumped up ten pounds... It very well could've been all of it. It was stressful losing a job, a car, and mobility for a couple of months this year. My b.f.f. says I look better with weight.
I feel like poo.
I'm tired. My stomach hurts all the time cuz I went back to hovering my food instead of chewing it. That lead to irregularity. Which lead to sugar up and water down. Finally, sleep deprivation triggering migraines.
Grrrr!!!!
It's a beautiful day filled with sunshine and birds singing. The negative voices in my head have been bound and gagged.
Weight increase is selfish and so is the size of my dessert serving. My loved ones have to deal with the aftermath of my negative, abusive choices. Not one more time is bonding and celebrating the everyday with my family going to be sabotaged by selfishness.
I was working Sundays for the last year and I never got myself or the kids to church for over a year. We were a home school family that spent many days a week with our brothers and sisters. Our faith is our foundation. It's ourmoral compass. Without our foundation we crumbled. Without the peace from trusting in purpose higher than self, we went cold.
Our home is filling with peace, love and hope.
The greatest of these is Love.
A day hemmed in prayer seldom comes unravelled.