Saturday, April 05, 2014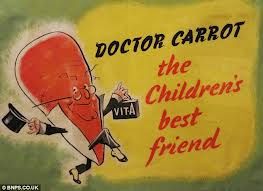 Spark People (and many other websites) have targeted ads. I am familiar with getting pop-up ads for fairly low-budget clothing for plus-sized women. Sometimes if I look up something on the Internet I will get an ad for that---I did some research about 7 months ago into a Holiday Inn in Paris that a member of my BLC-team was visiting. The Holiday Inn in Paris kept popping up on my page for a couple of weeks inviting me to stay there (I really would have if I could have!)
So today, I suddenly get ads for Alexander McQueen "handbags" that cost northwards of $5,000. And on the other side of the page a place called "Couture" wants me to visit. To the very best of my knowledge, I did nothing to trigger these ads. I did not visit any unusual web sites. I did not buy any clothing.
I am bemused a very very vaguely flattered that an Alexander McQueen algorithm popped up on my computer!
This Doctor Carrot is an image I have had for a long time; I had a small poster of it up in the kitchen when my children were young.