April 1, 1982
Tuesday, April 01, 2014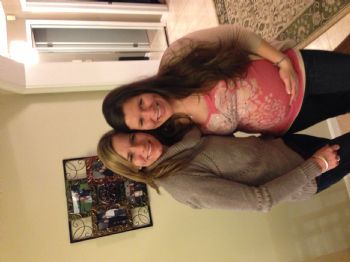 I told everyone that my due date was April 1. Do you think they believed me? NOOO!!!
First, I had to convince the husband that my water really did break. Then, I had to convince the nurses that this baby wanted to be born. 'Twas hard, but true. A beautiful 8 pound 1 ounce 20 1/2 inch baby girl joined us at 9:27 am.
Sherry Alison doesn't look like me or her dad. She doesn't look like big sister, Sarah Lynn, who turned 2 years old 17 days after she was born. I see all four of her grandparents when I look at her. I think it's great - they will live on forever.
I always told my girls that if anyone asked what they wanted for their birthdays, tell them to get their birthstone for them: diamond. This is so fitting for them. They are truly my gems, my miracles. They helped me grow. They give me such joy! They will do anything for each other. I can't ask for anything better. I can sit forever and just listen to them talk to each other.
I look back at our lives together often. So many good memories! So many things to smile about and to laugh about when I think of them! Things to be so proud of!
And now we will be adding Baby Z to the mix. Fifteen more weeks! I realize that this baby will come when this baby wants to - just like Momma. I'm ready, though. To think I have my next big vacation to plan for: Disney World in 4-5 years. If Momma and Aunty Sarah want to come, fine! If not, oh well!
This saga will continue...hallelujah!