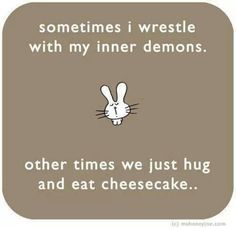 Sometimes I wrestle with my inner demons, the ones that torment you. They grab hold of you like your a hostage, tempting you an endless barrage of irresistible cravings.

The kind that make you feel like screaming with frustration as you work ever so hard to loose a pound or two a week. Who is going to win?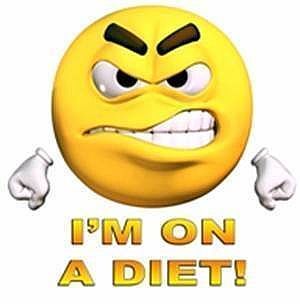 Well I am not on a DIET.

I am doing the COOL MID-LIFE, going to change, cleaning up the life-style thing.

It's that deep inner desire to CHANGE while you have time desire. It hits on our journey though life, that seems to hit everyone sooner or later. It's called cleaning up, adding years and increasing the quality of life.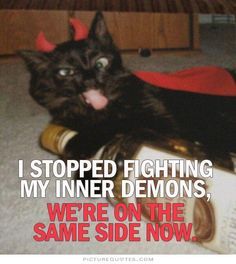 While it hard to train your inner demons (


) It can be done. You trick them into complying. It's sneaky, a switch-a-roo type of maneuver. It takes time, PATIENCE, and experimenting with recipes, but it can be done. Have I mentioned it takes LOADS OF PATIENCE?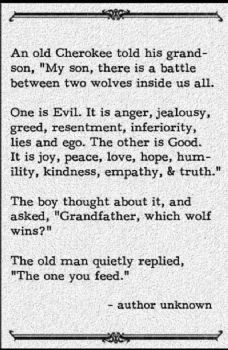 I learned how to FOOL the inner demons. Yup. Now I can fool them with healthy alternatives. Their strength is weakening. With a steady feeding of a daily green drink, I now crave eating more greens. Substituting fruits for sweets is helping too. Before I hardly ate fruit, now I enjoy them. When you have a cookie monster living with you the planning must become more carefully thought out.

(Spark needs to add in the cookie monster symbol.) If I make some nutritious homemade substitutes, hubby doesn't notice when I get rid of his store purchased cookies. Homemade cookies with wholesome ingredients well don't temp me. The reason is the store purchased ones are filled with MSG, artificial flavors, things that make you physiologically crave them. They awaken receptors in the brain that have an effect of consuming drugs from what I have heard. Homemade cookies are safe for me. Not packaged mixes, but from scratch. I don't crave them so I am safe.
A couple of days ago my cookie monster wanted COOKIES. I made for him raw lemon drop cookies, peanut butter cookies, Cinnamon Spice walnut apple cookies and more. All healthier than the cooked versions. A healthy cookie treat for hubby.

Then he came home with chocolate chip cookies, so I had to create a healthy, high protein cookie to satisfy that craving of his. He loves it.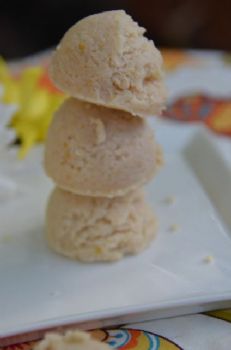 It is possible to have peace with our food.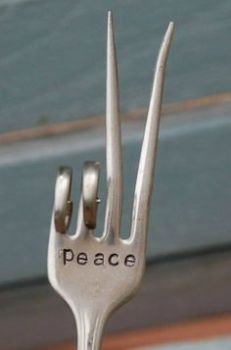 How do you fight off your inner demons?