Friday, March 28, 2014
I can barely breathe...I've been waiting for a month to learn the results of The International 3-Day Novel Contest, and the shortlist is finally out!
I'M ON IT!
I can barely type here, so forgive me if this makes no sense. The 3-Day Novel Contest is just what it sounds like: you write a short novel over 3 days, send it in to the contest, and hope for the best. Winner is published!
Now, we won't learn the winner until next week, but I already feel like a winner. This is the second year in a row I've made the shortlist.
This year I wrote a comedy of sorts called An Evening with Gravity Wells, Supersize Porn Star. If you've seen my profile, you've seen me dressed as my main character. If not, here she is (or, here I am):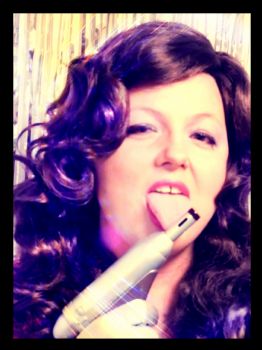 Gravity Wells, writer/director/producer/star of cheesy low-budget sci-fi themed adult movies, is the single greatest literary creation of my life. The book (about 27,000 words) is the story of her rise to fame. I won't get into details, as I don't wish to offend, but she is the expression of my new-found confidence in my body. Writing this book, which I did over the Labour Day long weekend last year, was a life changing event.
I am so proud of myself!