Week 1 Weigh In!
Friday, March 28, 2014
Last week: 379.4
This week: 372.8
Loss of 6.6 lb!
YAYYYYYYYYY
Most of this is water weight/inflammation, and I think I still have some more to come off, so I'm hoping to be in the 360's again by next week. I'm going to work my darndest!
I'm sticking to the same goals outlined in my last blog ~ Just going to try to get some more cleaning done this weekend so that my apartment is presentable and I can begin looking for a new roommate (anyone in Columbus, OH, in search of a roommate? :P). This is a big stress for me because I am generally a bit socially anxious, but it must be done in order to live here because I can't afford the entire rent myself.
So.. tonight, Sat, and Sun, I'm going to get the cleanings done. Then, first thing Monday morning, it's to Craigslist I go... (wish me luck, ughhhh).
But hey, this week's loss is putting me in an optimistic mood!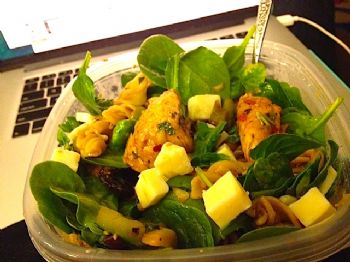 (This was a gluten-free pasta salad I made... I marinated some chicken breast and grilled them, then cooked and cooled some asparagus and tossed it all with the cold pasta, spinach and chopped onion and bell pepper, homemade italian dressing, and some cheese on top. yummy and so satisfying.)