Fuhrman's Chocolate Cherry Ice Cream (go shopping first)
Friday, March 28, 2014
Chocolate Cherry Ice Cream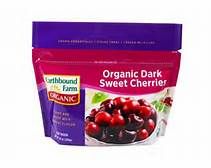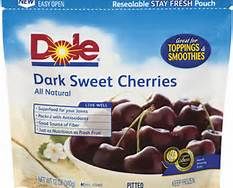 I did not know these cherries existed!
Serves: 2
Preparation Time: 5 minutes
Ingredients:
1/2 cup vanilla soy, hemp or almond milk
1 tablespoon natural non-alkalized cocoa powder
4 dates, pitted
1 1/2 cups frozen dark sweet cherries
Instructions:
Blend all ingredients together in a high-powered blender or food processor until smooth and creamy. If using a regular blender, only add half the cherries, blend until smooth, then add remaining cherries and continue to blend.
You can also use berries or banana instead of cherries. Freeze ripe bananas at least 24 hours in advance. To freeze bananas, ripen them until they are speckled (at their sweetest point), peel them and cover tightly in plastic wrap or put in plastic baggies. Cut them into one-inch slices before you put them into the blender for easier blending.
Per Serving:
CALORIES 137; PROTEIN 5g; CARBOHYDRATES 30g; TOTAL FAT 2.1g; SATURATED FAT 0.5g; SODIUM 35mg; FIBER 4.8g; BETA-CAROTENE 828ug; VITAMIN C 2mg; CALCIUM 47mg; IRON 1.9mg; FOLATE 19ug; MAGNESIUM 45mg; ZINC 0.6mg; SELENIUM 3.7ug