After yesterdays heavy focus on look at your food...taste your food..enjoy your food...
Today they spring on me...that you can multitask while eating..?????
HUH ....What? I just got told to not do anything but focus on food..now there is an exercise to do other stuff while eating? Whas up with that?
Reality is..we cannot create a bubble that we move into when we eat. Perhaps a few meals or a few practice sessions of total absorption , then real life moves into your arena. The phone rings & you WANT to talk to that person...the kids need your attention..life rolls over your perfect plan to be 100% focused on food.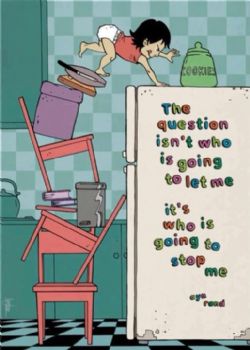 yep while we are plotting to be perfect...life happens..& that crash in the back of the house will definitely take you away from your plate! Or that sunset your DH calls you to look at will make you lose focus on that lil ole plate of food.

So the suggestions today were...once again ..practice...
First sit down with your food...appreciate the appearance of it..the colors & textures..then the aroma that is causing your lil lips to quiver in anticipation..then that first perfect bite.
The flavor ..the texture...the enjoyment of that bite. Then put your fork down..get up & walk about look at the sunset..with your plate in your hand..the food is still there you have not forgotten it. then sit down & again focus on the food..



Each of us has our "interrupters"...or things we like to do while eating..I love to have music on..but I can enjoy the music & still focus on the food. That indeed is what this lesson is all about. We do not have to isolate ourselves..actually I enjoy a meal with a group that is involved in a lively converstation...the food seems to taste better...but you have to focus on each bite..then focus back on what is being said..& we all have learned to split our attention in order to focus on multiple things..multitasking...oh yeah.
So the idea is..multitask with your food..just never fall into Mindless Eating where the food goes in your face & you are not aware of it.
Long day..busy day..ready to call it a day.....