Thursday, March 27, 2014
Last weekend we went to Chena Hot Springs to photograph the northern lights. A snow cat drove us up the side of a local mountain to view and photograph the aurora.
We left at 10:30 and didn't get back to our room until 4:30 AM. It was so cold... brrrr. -7 and windy but DH got some great photos.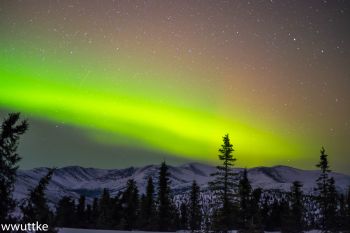 He even captured a shooting star, seen as a faint white line in the green area. I felt like freezing for 6 hours wasn't worth it at the time, but now that we're home and we can appreciate the photos, it was worth it.