Excuse Me please. I have been in the GARDEN. My fingernails might have a bit of soil under them, my quads are a bit well worked out. It's been a joy working outside in the garden. The weather has been too nice to ignore. A deep inner longing takes me out to work in the garden.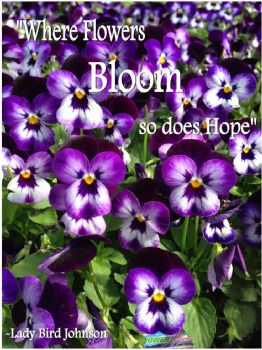 With spring like weather here, everything is in bloom.

Under the purple leaf flowering plum tree all covered in blossoms, I planted some sunny yellow coreopsis and blue salvia. In the Zen zone where the tulips bloom I tucked in some soft pink petunias and hot pink sweet alyssum. Around the large potted plants by the fence more bright lights Swiss chard was planted. It is as if I am under a spell, busy as a bee planting in the garden.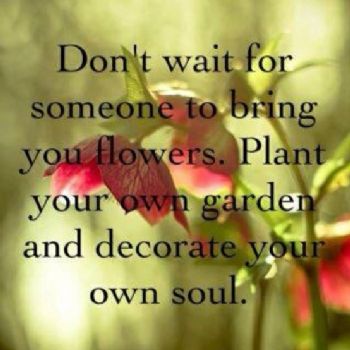 My legs have gotten stronger, so I can work longer outside. Before it was hard to squat in the garden. It's getting easier lately. With the spring flowers all in bloom I couldn't help myself. I continue to improve with the fantastic juice. It wakes me up better than morning coffee. It works so well if I ever feel a little tired hubby says, "GO DRINK YOU JUICE." It will fix everything.

I love it. He notices it's effect on me. I am tickled pink. It's time to plant the tomatoes, herbs and flowers we purchased at the nursery. Mortgage lifter and Pineapple heirloom tomatoes await for transplanting. A few pots of oregano and sage need larger pots. There are more hummingbird friendly flowers to plant in the ground. It's so beautiful, so wonderful to get dirty.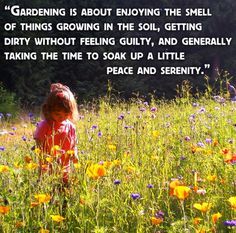 The other day we walked in almost 80 degree weather. The heat got to me as I climbed up an unusually challenging hill at the end of our walk. Heat affects MS hard, creating an increase in symptoms. We got home and hubby brought me a jar of juice. Singing high praises for the magic of green it turned around my day. It was a situation that normally would of kept me chair locked turned was reversed. It didn't take long to recover from overheating.

Well, I have to run. Got to go to PT. He is teaching me exercises that work accessory muscles deep in the core. His technique is fab. It is helping my lower back/sacroiliac joint area to strengthen. It's not as painful lately. Then maybe a walk in the rain.

Waving a busy hello. As I run to make some healthy foods, homemade crackers for dear hubby. Got to stay on track. I have been so very busy.
Hugs.