So I had a pretty full day. I toured a gym and signed up. Yay! They have evening Yoga and Zumba and even with my current job I should be able to get there a few times a week. When I start the new job, it'll be easier as they are just down the street from the clinic! I'm going in on Sunday for my weigh-in, body fat, etc. I'm not nervous about it: it is just a starting point and not a measure of my worth. The lady was really sweet and called me "itty bitty" (ITTY BITTY? Ha!). I know she was just being nice. But she commented that I'll be "rockin'" once I've lost the weight.
I had not yet read _Ramona's Blogs from today:
www.sparkpeople.com/mypa
ge_public_journal_individu
al.asp?blog_id=5656221
www.sparkpeople.com/mypa
ge_public_journal_individu
al.asp?blog_id=5656227
So if I could go back in time, I'd say: "lady, I think I'm pretty rockin' right about now, thank you very much."
Instead, I said "uh-huh!".
I got my nails done. This is part of my "invest in myself" mantra. Usually I get them done once and then I'm done - I'm not worth the money. Now, I'm not budging. It's happening. I got nice, long gel nails for vacation but had her shorten them so that they are more natural. I really like the way they look. My natural nails are boring and always look dirty and rough and gross. So what the gel does is it makes it look manicured, only it isn't polish - it won't come off, so it lasts forever. Of course, I have to get them filled and touched up every 3 weeks, or so, but that's ok.
This is what they looked like for vacation: definitely looks fake and who wants their veterinarian examining their pet with talons (even though they really aren't *that* long):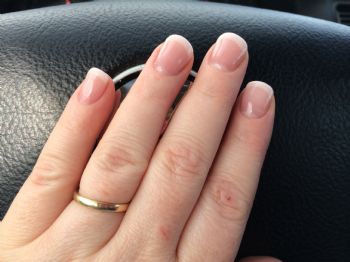 Here is what they look like now - more natural, I think, but still have the polished look which is what I'm going for: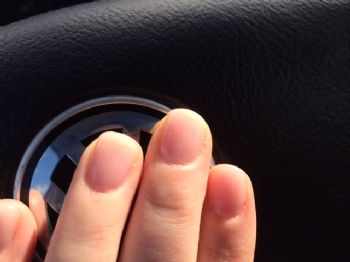 (eh, they don't look that great in this pic - they are nicely sculpted and shiny in real life)
Afterwards I went to a local church that was holding a big event for the homeless - clothes, free haircuts, bike repairs and pet services. I was there for 3 hours vaccinating dogs and cats for free. This is through the clinic that I'll be working for come June. This is one of the primary reasons I believe they will be a good fit for me. Shelter medicine, community service, helping the homeless population, etc. is something that I devoted myself to in vet school and even before. I won't go into detail, but it is near and dear to my heart. My current clinic does nothing. My future clinic is extremely active in the community. We are very like-minded on that front whereas my current clinic will only go out into the public if it means they have a chance at increasing clients. So they might go to a local event where there are a lot of different booths (such as a doggie dash or dog show), but they wouldn't, for example, go to an event for the homeless. Anyway, I had fun. I'm looking forward to being a part of their team.
So overall, a good day.
March has not been good to me in the weight loss department. I'm holding steady, up by a bit less than a pound. I did not incorporate exercise as I'd planned to. I continued to spend my leisure hours cleaning, reading, sleeping, knitting, etc. I am currently sitting on my laurels.
The plan for April is to incorporate the gym and get back to serious tracking and blogging. When I track, I stay accountable. When I blog, I stay accountable.
So my goals:
1) Gym - I'll at least start twice a week since it is a bit out of my way right now...hopefully by June I'll be up to 3 days a week and then come June I see no reason why I shouldn't go every day that I work (4-5 days a week).
2) Track - already started, tracked everything today. It doesn't take long, I have no reason not to do it.
3) Blog - daily, even if it is a tired blurb - it keeps my head in the game
Simple.
No weight loss goals - I just want to see that scale moving.