I got up yesterday to open the front door for my cat, thinking it was Wall-e meowing outside. Instead, I was surprised to find this little red head. I gave him food and he was very affectionate. He's young, maybe 8-9 months old. He has two little dangling accessories at his back end.
I sat for a while stroking him, debating what I should do. If he belongs to someone but just got out, do I have a right to snatch him up and get him neutered? I thought about the thousands of kittens this male would end up producing if he didn't have a home and remained intact.
I let Boo out to see what would happen and the little red head sat at the end of my walk staring at us, but was interested and appeared friendly.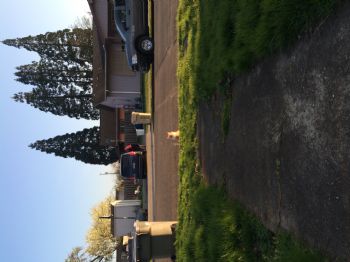 My neighbor drove up and I asked her if she knew him. She's the kind of neighbor that knows everything about everyone. Very handy :) She's also the one who helped me out when the cats had to be fed and I couldn't make it due to the freeze. She's a certain type...but good hearted.
Anyway, she tells me that the little red head belonged to one of the girls who lived in the house on the corner but she moved out a few months ago and left him outside, hoping someone would pick him up. One of the other neighbors has been feeding him.
So, in we went to the mud room where he has now been since yesterday. He's still very affectionate and not afraid at all. He's eating and drinking great and using his litter box.
What possessed me to randomly buy an extra litter pan yesterday morning? I haven't bought one in a year and had no need for one...but for some reason, felt I had to have one at home. It wasn't an hour after I came back from the store that this little guy showed up.
Huh.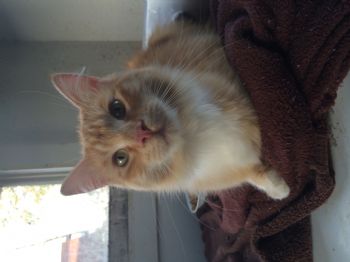 I'll be neutering him on Wednesday.
He needs a home :)
No, seriously! I am NOT keeping this guy! I will not, I will not, I will not...