Monday, March 24, 2014

I do have a passion. It's to serve other people. The Freudian's in the group might nod their heads and suggest this stems from sort of insecurity. Simply put it stems from a place of love. You see, tucked away, somewhere beneath all the vitriol many people believe in today about Jesus message I believe is a simple one.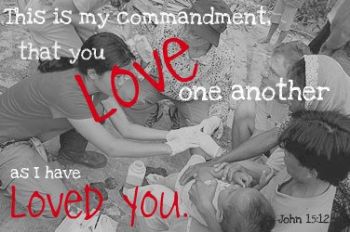 You may have your opinions and beliefs that's your God given right. Have them with love. Accent them with service to others.
It's not always easy to serve. That's why its my passion. We dont have a lot of material things. There are nights I lie in bed and think Joan could have done a whole lot better because she deserves a whole lot more than I've given her but then it dawns on me that I couldn't have done this without her. People tell me that with my intelligence, my wit, my charm, and creativity that I should get a nose bleed from the pile of money I could be sitting on. Others suggest I'm a bit of sap or an easy touch. I'll give my service away to someone who needs it long before I'll walk away because they cant afford me or afford to pay the value of my service. I'll help someone who needs the help because if I truly call myself a Christian then I have to put Jesus message high above anyone else s. Thats not negotiable and I'll tell you not everyone understands that.
A few years ago I made a new friend here at Spark who I guess could be best described as agnostic in belief. After we'd known one another awhile they shared that when I told them I was a Christian their response was "Oh-oh." Later they came to realize I was unlike any Christian they'd ever met.
Don't misunderstand. I'm no saint, not close to it. Paul said somewhere that "He stood before God as a great sinner." Me too, me too.
I get angry, I get frustrated I can be quite the hypocrite and often been told I am high maintenance. I am arrogant and judgmental. I'm a people pleaser who is a compulsive over eater. I live with panic and anxiety disorder and I'll lose sleep at night worrying if you like me or not. I dont always practice what I preach and every now and then I'd like to go to sleep at night and not worry about paying the bills at the end of the month.
But I serve because like breathing it's an intrinsic part of who I am. It is as the old movie once said A Magnificent Obsession. Yes, my dear one, my passion is to love and to serve and to take great joy when you succeed. It always has been and it always will be
Be blessed today