Why do I feel this happens?
I think the biggest reason is fear.
I saved this blurb about fear I read recently in a post on zenhabits, "The Universe of a Single Task"
zenhabits.net/everything
/
because it rang oh-so-true to me:
"Notice your fear. Sometimes, we resist a task, procrastinate on it. I mean, not you, of course. Most other people procrastinate. This procrastination is rooted in fear, and so the trick is to see the fear, to feel it in your body, to accept it as part of you and not "wrong". Then to give it compassion, and act anyway, in the moment. Don't let your mind run away from the task."
* * * *
This journey I'm on... it's full of twists and turns, sometimes the pace feels incredibly fast, other times it's super slow, and sometimes in the middle of it all I realize I've gotten in my own way.
The important thing then is to get out of my own way by picking myself up, dusting myself off, and continuing because everything I want is on the other side of fear and I need to get past it.
Doesn't matter if it's second by second, minute by minute, or hour by hour, just as long as I continually put one foot in front of the other and keep going.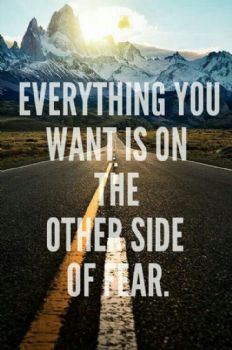 What about you? Have you identified a reason or reasons why you sometimes get in your own way? What have you done to help yourself get past it?