Friday, March 21, 2014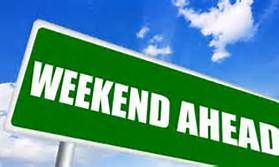 Just joined the WW Team's mini challenge for the weekend. This mini challenge is designed to make us strong and accountable for the weekend --- those weekends can so quickly and easily become WEAKends if I'm not careful!
I don't know why, but my brain allows me to think up all kinds of excuses for why the weekends should have more food than the weekdays! There are still 24 hours in each day - no matter what DAY it is! I have the same body, brain, organs, etc. on the weekends as I have during the weekdays --- why oh why does it seem that I want to eat more or eat differently on the weekends????? That's just like double dumb to even think that weigh! I just don't get it! but I do it! I really do! I sometimes change my thinking just b/c a day is called FRIday, SATurday or SUNday! like I said --- double dumb!
So -- this weekend will be a strong one --- this one will be tracked to a "T" --- this one will be a "write BEFORE I bite" weekend --- no excuses -- no complaining -- no reason to NOT make this weekend just like any successful weekday in every weigh ---- that's what I'm gonna do! how about you????