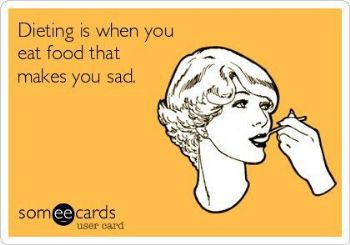 Dieting is when you eat food that makes you sad. It's funny when you read it... and then it sticks with you and you think about it.
If you have to eat the way you do right now on your diet for the rest of your life to keep the success you've had, would you be able to do it? Every single day, every single meal for the rest of your life?
That's something I definitely considered when I joined SparkPeople. How would I be able to sustain and continue my success?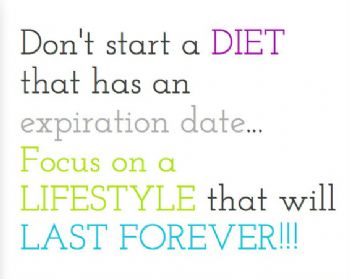 That's why I chose to practice moderation over deprivation. Does that mean I allow foods that are a huge temptation into my home with the thought that I can eat them in moderation? Nope, it does not. (My snack food nemesis is crisps (potato chips) and I do not buy them at all because as soon as I eat one I just want to consume the whole bag, so no crisps in my home.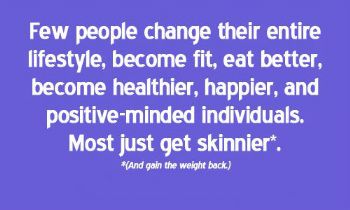 It's a lifestyle change. Why? Because it's more than just changing what I eat and drink. It's a deliberate choice to feed my body better, drink enough water, move my body around every day and work on syncing up my brain and my body so I can continue the success I have enjoyed so far.
For me that means learning about what triggers my Emotional Eating and then learning how to use coping skills and defense mechanisms so I do not stuff my feelings down inside me with food, which is basically punishing myself for something someone else said/didn't say, or did/did not do.
I can only control myself and how I react to things. Period. As much as I may want to control others, it's just not going to happen so I might as well focus my efforts on making the best possible version of me I can!
One final thought on dieting... and I use the word as it's defined by the Mirriam-Webster Dictionary -- diet: food and drink regularly provided or consumed.
Especially for all those people who, after asking me how I've managed to lose weight, then turn up their noses at the thought and practice of portioning out their food using a digital kitchen scale/measuring spoons, drinking enough water, moving their body, and also keeping track of it every day...