Thursday, March 20, 2014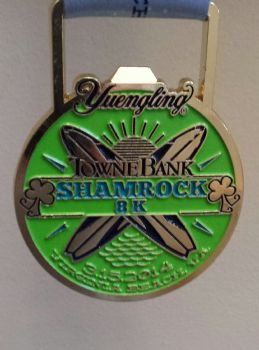 I'm back home and getting back to routine and still the same weight. Is that good or bad or just what it is? I had a great little vacation and got my medal, but as far as weight loss goes-meh. The problem with traveling to a race was that I had to spend two full days sitting in a car and the whole time eating in restaurants. Even though on the actual race day i walked three miles and also ran/walked the 5 mile race - that was just one day. My lesson is that trips like this are going to be fun but not necessarily weight loss extravaganzas. In my quest for fitness, everyday exercise getting ready for the race was much more beneficial than the race itself. I did well with managing eating out so I count that a success. My next race in SC will be even more driving, but this time our hotel will gave a kitchenette- so I may do better eating. Also they have public pickle ball courts, so I'm planning on doing that, too. Yesterday I started training. I ran 2 min walked 3 min for 3.1 mi in 40:36. I'm not sure whether to go for running the whole 5 K VERY slowly or run/walk and get a better time.
While I was browsing active.com I came across virtual races for charity. They are all about $30 - you run where you are and post your results to get a medal and your fee goes to the charity. I signed up for one that benefits the Leukemia and Lymphoma society and the organizers are also running in the Boston Marathon to benefit it, too. There is one that benefits Boston One Fund that you can run on the day of the Boston Marathon ( or another day) I may do that one, too. I like the idea of running on the actual day of the Boston Marathon to benefit the One fund.