I have used a 9 inch plate for a while that is until it was dropped and smashed, they don't bounce sadly.
I had bought an old plate from a charity shop that was 9 inches nothing special just a plain plate but it worked well to keep the portions under control.
So I ended up using a plate that was a little larger as I could not find a 9 inch plate again without it costing a rather silly price. I am talking here of £18 plus for one plate, forget it I want more than one plate for that money.
So the hunt was on for a plate that was a) 9 inches or 22 cm I still use inches, I cannot visualise in centimeters and b) not a silly price.
Charity shops came up with nothing, they have 12 inch plates galore but not a 9 inch plate in sight.
Stores! forget it again large plates starting at 12 inches and going up. Side plates are still larger than I wanted and again silly prices.
So off I went to Amazon site to see what they had. Diet plates galore there but the price was out of my range until I found a plain white plate with sections but no fancy designs on it. Price was sensible as well compared to the others. So I have ordered it.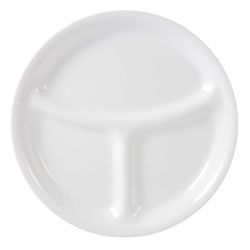 www.amazon.co.uk/Corelle
-Winter-Frost-White-Divide
d/dp/B000KYYEKS/ref=sr_1_6
?ie=UTF8&qid=1395226735&sr
=8-6&keywords=diet+plate
Large section for vegetables one small section for meat the other for carbs, easy.
Mixed foods like stews, curry etc will have to worked out, what I did before was half the plate for the curry and a small section for the rice. That is not enough rice for DH as he likes plenty of rice but as we don't have curries very often ( they are home made) I let him have more rice.
So now I will have a proper diet plate and will see how it works out compared to my old 9 inch plate that decided it had taken enough use and shattered as it hit the floor.
My new plate should arrive in the next few days and then I can get down to the serious business of getting the portions back to where they should be.