Meditation Monday - BEcoming our Own Inspiration
Monday, March 17, 2014
Every Monday the Wild Divine offers a free Meditation.

Today the focus was about becoming our own inspiration through meditation.

"As we let our own light shine, we unconsciously give other people permission to do the same." -Nelson Mandela
Through meditation, we learn to become our own "inner beacons of happiness", letting our "best selves be visible" by remembering "changing our lives, even in small, incremental ways, can only happen effectively when we start with ourselves. It's no different with happiness."
To help inspire us, Wild Divine offered a visual meditation "Be Your Own Light."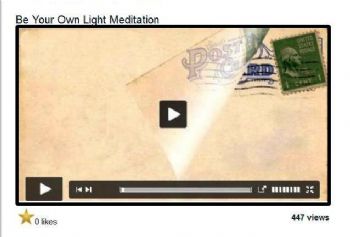 vimeo.com/22627791
All changes start with us. We may meander along the way, but the important thing is to 'start'.
Here's to remembering every day is

a chance to 'get it right' to be brave and to go out and live our authentic lives.
And in case anyone is looking for courage to change, the mentor challenge has a new 21 day series "On Becoming Fearless"
www.mentorschannel.com/A
riannaHuffington/OnBecomin
gFearless/Program/
another resource on our way to BEcoming "AWAKE! ALIVE! AWARE! and Appreciative of ALL that IS"
Namaste