Embarassing moment - I have two pairs of jeans and today one of them "blew out" when I got into my friend's car.
My thighs rub together, so it had to happen sometime. I have just never had it happen so dramatically before.
It was no great loss as they didn't fit well or look good on me. They have those fashionable lines at the top of the thighs. I think they are supposed to make a girl look better, or be like a camoflage or something, but they just made me look hippy. Sadly, when I went to buy pants for work I only had two choices because I needed a size 18+.
With some fear, I decided I would purchase two new pairs today. Who knows when/if I will get back into my favorite pair. I wanted a back up back - you know.
I picked out the same size that I had been wearing and they looked pretty awful. I figured I looked awful in my old pair because they had lost their shape. Turns out I am the one who lost some shape!!!!

I have been in this situation before, this is not my first time losing weight after all. I asked for one size down. To be fair, this is a more generous cut than my favorite-maybe-one-day jeans.
Rockin' Jeans!
Thank you squats. Thank you Zumba. Thank you Athletic Training. Thank you planks. And most of all, thank you SparkBuddies, I could not have done this without you inspiring me and cheering me on.
This picture is terrible - but I'm sharing it anyways. I know I'm not the only one who gets this. The jeans actually fit because I am not "muffin-top"ping in them.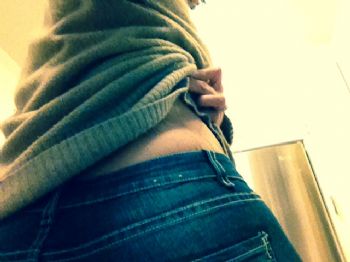 Progress is slow, but we are progressing.