My kids went back to their Dad's last night instead of Sunday, as they usually do. They have a family wedding in Illinois today. This provided a unique opportunity for Todd and I to spend the entire weekend alone with his boys! So fun!
This morning, I got the bonus boys up and took them out on the town. A was so adorable and said in the car, "Hey, this is like an FS date!" I replied, "What's that?" He said, "Future Stepmom date!" Lol. I guess so! They have taken to calling me "S-Mom", which gets on Todd's last nerve. So that makes it even more attractive an option for the boys. Lol.
We went to Steak n Shake first and had a hearty breakfast. Talked about the wedding and all kinds of plans for the future.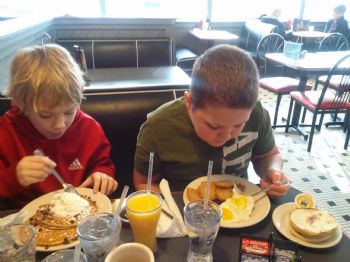 Then, we headed to the Winter Farmer's Market. The boys got the cutest little pie pops!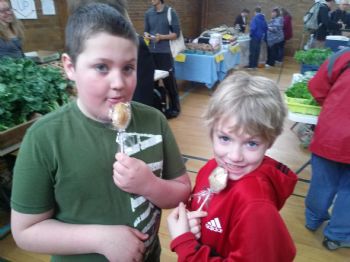 We then attended A's last basketball game of the season. He got a basket right at the end of the game!!! On the way home, we hunted geodes in Morgan-Monroe State Forest and found a TON of them! Filled an entire bucket. We then took the boys to a rock and crystal shop and let them choose a stone. We stopped at an international market that has an entire aisle of chocolate from all over the world and all of us chose some treats!
Now we are finally home and Todd is making some yummy fried chicken and mashed potatoes while we have a Hunger Games movie marathon!!!
Tomorrow, it's church and then taking the boys to Orange Leaf for frozen yogurt and then to the Exotic Feline Rescue Center. They have a lion, two tigers, a leopard, a cougar, a white tiger and several smaller cats like lynx and puma. So excited!!!!
Gosh, what a perfect weekend! Love my bonus boys!!!!