Tuesday, March 04, 2014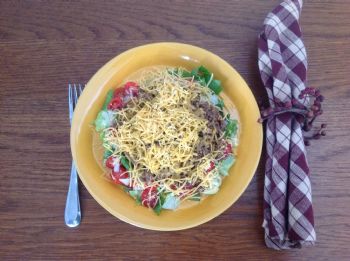 Today's lunch was so good, just a simple taco salad, but it really hit the spot. I had tacos 2 days ago for dinner, but made extra meat & packaged it into single serve containers so it only took me about 2 minutes to throw the salad together....gotta Love it when your prepped & planned. I could honestly eat this for lunch every day. I truly am a creature of habit, once I find something I like, I crave it every day!
I am on the third week of my 21 Day Fix journey & really LOVE it. I had a rocky start as I ended up with the flu during week one, which turned into pneumonia. It was almost 2 weeks in bed...what a waste of time, but modern medicine & drugs helped a lot & I am back in action, a little weaker but that will change!
Sunday's workout was Yoga Fix, Monday was Total Body Cardio Fix, & today I have Upper Fix, which I plan on doing in about 45 minutes (need to give that taco salad time to settle, lol)
I plan on doing another 21 Days of this program when the week ends & my goal is to have taken off my last 20 pounds for good by the end! I know I can do it & I know this is an amazing program to help me get there....Wish Me LUCK