Arts and Charms Week One: previous attempts
Monday, March 03, 2014
I had a bit of a poke around and came up with a few things I'd almost forgotten: I look back at why I don't do so much these days and think it must be because I'm less stressed than when I worked. I think I did these things as a break from the constant pressures.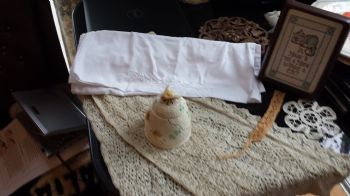 A piece of ceramic painting, a knitted lace scarf, so old it is discolouring, a cross stitch picture, all that remains of my bobbin lace-making days (bookmark and mat) to the right, and some candlewicking. That's hard to see as it's white-on-white so here's a close-up.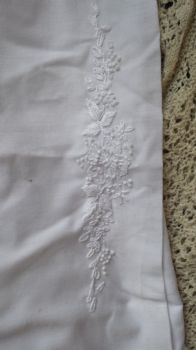 More ceramics and some crochet. Sometimes I'll sew a small book for notes, which I decorate, mainly for identification.